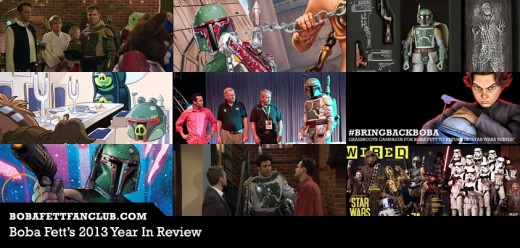 It's been a busy year for Boba Fett collectors. Two-thousand thirteen was swamped with comic book cameos, convention exclusives, mobile game and roleplaying expansions – amongst other news items ranging from spin-off rumors and the launch of the #BringBackBoba Campaign.
Some of the major happenings were the wrap-up of Agent of the Empire, Boba's 6-inch figure in the Black Series toy line, his update in Angry Birds Star Wars and controversy over the canceled 1313 video game.
If we missed anything you feel should be on the list, or would like to talk about your favorite Boba Fett product or project, jump over and discuss it at our #BringBackBoba Campaign page on Facebook.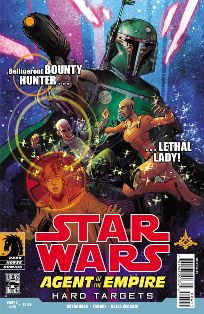 January:
February:
Mars re-released M&M Boba Fett candy products for Valentine's Day
Boba Fett appeared in Star Wars: In the Shadow of Yavin #2
Jeremy Bulloch named Boba Fett in his favorite five film rogues in Star Wars Insider #140
Zen Studios released Star Wars Pinball for mobile devices, which included a Boba Fett table
Boba Fett appeared on the cover of Wired Magazine
Rumors started about a possible Boba Fett spin-off film
Hasbro announced Boba Fett in second wave of Angry Birds Star Wars at NYC Toy Fair
Boba Fett appeared in Agent of the Empire: Hard Targets #5
Fighter Pods Series 4 included new Boba Fett figurines and Slave I
Ted dressed like Boba Fett in an episode of How I Met Your Mother.
Boba Fett included in expansion of Fantasy Flight's Star Wars Roleplaying Game
Fantasy Flight Games expanded X-Wing Miniature Game with Slave I ship
March:
Kotobukiya released its Boba Fett silicon ice cube tray
Boba Fett makes semi-finals for StarWars.com's March Madness tournament
Boba Fett levels added to Angry Birds Star Wars mobile app
Inside sources reported there was an unaired Boba Fett story arc planned for The Clone Wars Season 6
Gentle Giant offered 12-inch Jumbo Boba Fett as gift option for premier gold members
April:
Boba Fett appeared on stage during Walt Disney World announcement about Star Wars Day
Patton Oswalt (Parks and Recreation) filmed recommending that Episode 7 open with Boba Fett
LucasArts sources report video game 1313 was centered on Boba Fett
Boba Fett appeared in children's book Vader's Little Princess
UK-based company Direct Blinds released blueprint Slave I window covers
May:
Magician Chris Cross challenged Jeremy Bulloch in escape act at Star Wars Day event
Boba Fett appeared in The Assassination of Darth Vader released on Free Comic Book Day
Boba Fett appeared in Star Wars: In the Shadow of Yavin #5
We launched the #BringBackBoba Campaign
Winning T-Shirt for the Dark Side Design Contest featured Boba Fett
FanWraps released Boba Fett car wraps for Star Wars Day
Her Universe released Boba Fett tank top for Star Wars Day
Boba Fett found in Series 2 of Angry Birds Star Wars blind bag figurines
Hollywood Studios released exclusive print featuring Boba Fett for Star Wars Weekends
Disney released "Sarlacc Attack" toy set exclusively for Disney Park gift shops
StarWars.com offered printable Boba Fett mask for Cinco de Mayo
June:
Medicom released new designs for Boba Fett Be@rbricks Collection
Rovio released Boba's Delivery cartoon for Angry Birds Toons
X-Raided offered limited edition Boba Fett challenge coin
Jeremy Bulloch began giving exclusive Boba Fett patches with copies of Flying Solo
Comic Images released Boba Fett rag doll
Sideshow Collectibles announces its Sixth Scale Prototype Boba Fett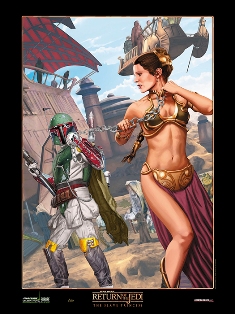 July:
Artist Joe Corroney released The Slave Princess featuring Boba Fett for Celebration Europe II
Artist Brian Rood released Homecoming featuring Boba Fett for Celebration Europe II
Limited edition giclee Boba Fett paintings released by artist Christian Waggoner
Giclee painting featuring Boba Fett released by artist Raymond Swanland
Bounty hunter card set including Boba Fett offered as exclusive for Celebration Europe II
Gentle Giant offered Boba Fett Deluxe Mini Bust at San Diego Comic Con
Exclusive 6-inch Black Series Boba Fett with Han Solo in Carbonite offered at SDCC and Celebration Europe II
Retro Outlaw Boba Fett figure offered as San Diego Comic Con exclusive
Four Boba Fett actors reunite on stage at Celebration Europe II
Funko released Holiday Special Boba Fett Pop! Vinyl exclusive
Boba Fett appeared in Star Wars: In the Shadow of Yavin #7
Dark Horse Comics released Agent of the Empire: Hard Targets on trade paperback
August:
September:
Petco includes Boba Fett dog toys in their Star Wars Pet Fans Collection
Tribe released new line of Star Wars USB flash drives including Boba Fett
Retailers stock officially licensed inflatable Boba Fett jetpack
Hasbro announced Boba Fett's Class II Slave I to hit stores in fall
Her Universe announces new Boba Fett dresses coming soon
Konami launches Star Wars: Force Collection for mobile devices featuring Boba Fett
Boba and Jango Fett featured in Angry Birds Star Wars II
October:
Boba Fett featured in Topps' Star Wars Jedi Legacy card series
Boba Fett featured on Angry Birds Star Wars Happy Meal pails
Artist Brian Rood released Boba Fett is on the Hunt for limited time
Dark Horse released limited edition of Star Wars #2 canvas prints
Funko featured Boba Fett in its Star Wars Papercraft Playset
Boba Fett appeared in Star Wars: In the Shadow of Yavin #10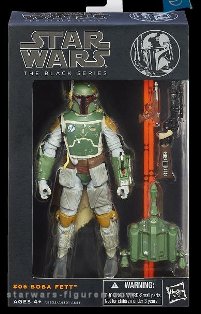 November:
Artist William Silvers featured Boba Fett in his painting A Good Day to Die
Boba Fett celebrated the 35th anniversary of his animated debut in the Star Wars Holiday Special
Boba Fett merchandise given away in contests for Entertainment Earth, Think Geek and Mint in Box
Retailers stocked Boba Fett stationary sets and hot chocolate for holiday specials
Hasbro released Boba Fett in Wave 2 of the Black Series 6-inch line
Boba Fett featured in mobile application Tiny Death Star
Boba Fett wins majority vote in IGN.com's Episode VII poll
Star Wars drinkware featuring Boba Fett showed up at Target
LEGO Advent Calendar features Boba Fett, Jango Fett and Slave I
More than 20 Black Friday sales related to Boba Fett products
December:
Boba Fett sketch by Joe Johnston raises money for Shine On Sierra Leone
Boba Fett featured on cover of Star Wars Insider with inside spread
Tiny Death Star adds Holiday Special Boba Fett to in-game characters