Established 23 years, 8 months, and 30 days ago
The Boba Fett Fan Club started on July 4, 1996 as single web page for a monthly Boba Fett e-mail newsletter called "The Hunter's Journal." After quickly gaining subscribers, its own website followed, along with working with other Boba Fett and Star Wars fan sites. It's never stopped growing, evolving, and reaching fans — new and old.

Animation made for BFFC
by J. McGarry
The Boba Fett Fan Club is the premiere web site for fans and spectators of the cult phenomenon behind the bounty hunter Boba Fett from George Lucas' Star Wars saga. This is a non-profit web site designed, written, and maintained by volunteers. Support and original content has been provided by three of Boba Fett's talents: Jeremy Bulloch, Mark Austin, and Daniel Logan. This is the longest lasting Boba Fett web site on the Internet and the most popular single Star Wars character site ever.
2019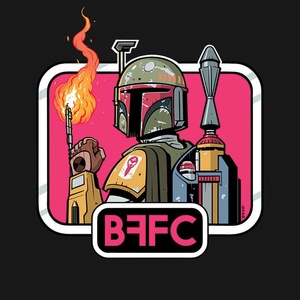 On July 4, we released two more original "BFFC" designs, featuring the Pre Production 1 and Pre Production 2 Boba Fett costumes circa 1978. All proceeds still going to Jeremy Bulloch's favorite charity.
Also in July, we were invited back as media/press to the San Diego Comic Con, where we did a lot of great video and photo content.
Another highlight in July: BFFC was accepted as media/press to the D23 convention. This year the convention is expected to be a big deal for all things about "The Mandalorian." While Boba Fett is not expected to be in the show, per the official synopsis, the opportunity to see and cover the event with a special pass is an honor.
In August, after many failed applications, BFFC was accepted as a publisher for Google News. This means all of our content in the news category gets an extra boost of visibility through news.google.com and their "subscribe to keyword search" emails.
In October, we partnered with The Pumpkin Geek and Anakin And His Angel to do an Instagram giveaway for a craft Boba Fett pumpkin made by The Pumpkin Geek. The contest generated hundreds of entries and was awarded to one lucky fan, who will get it in time for Halloween.
In December, we donated the annual proceeds again to Jeremy Bulloch's favorite charity.
Doing press at Empire Con in Los Angeles, we did a popular video with a 4-year old "Mandalorian" cosplayer. Pedro Pascal ("The Mandalorian") shared one of our videos, hitting 550k views. We also did a short video with Tait Fletcher (Heavy Infantry Mandalorian), who later shared "BFFC rules." Daniel Logan did a shout-out from Germany.
2018
In August, we had the exclusive on announcing Jeremy Bulloch's retirement from touring conventions worldwide. It was great to see both the fan memories being shared as well as many fan sites coming together to signal boost the news.
In mid-July, we headed back to the San Diego Comic-Con as press again.
Our original web series, "No Disintegrations," finished its first season with a solid 22-episode run.
2017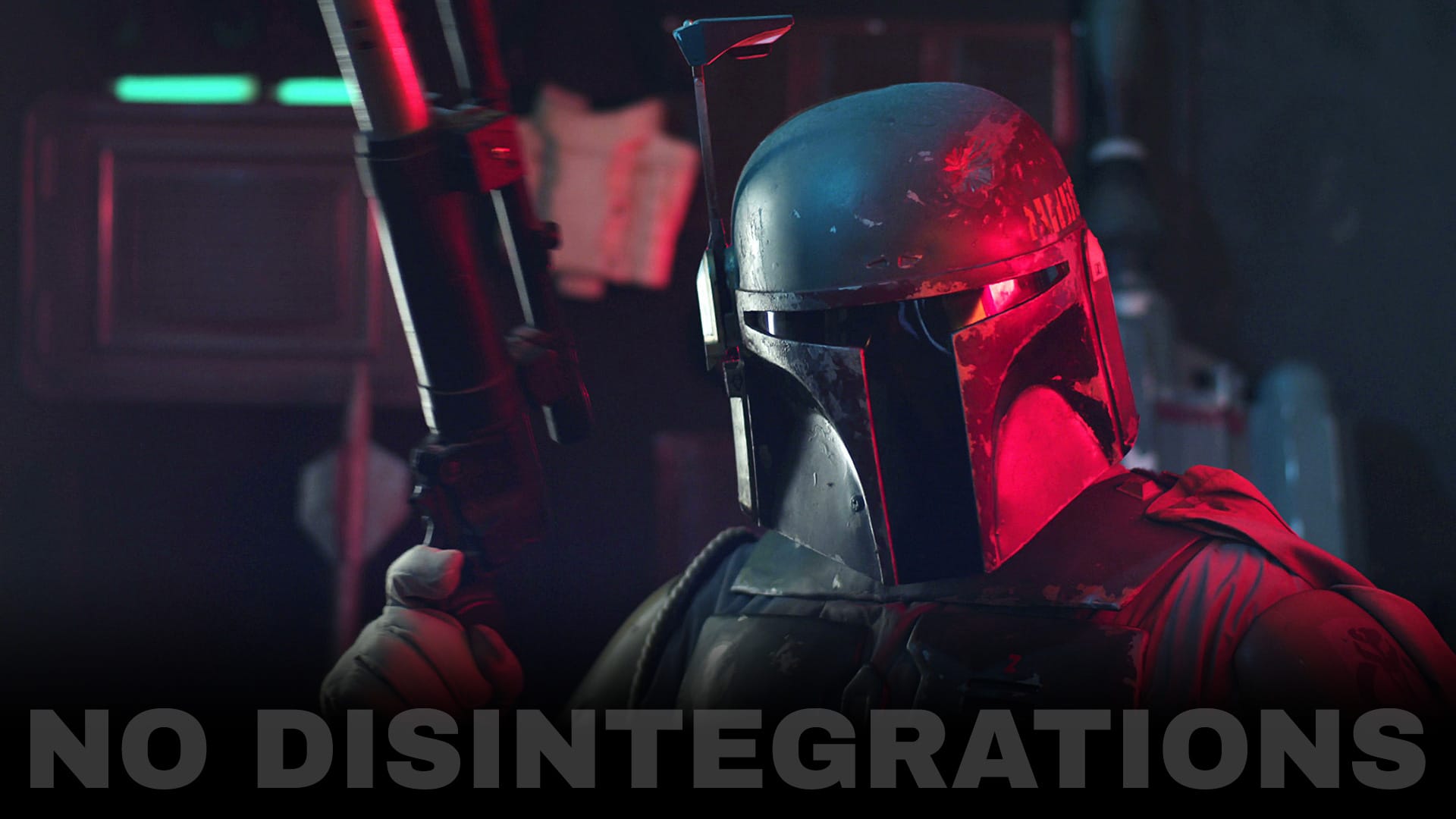 On September 17, we premiered "No Disintegrations," an original web series with Mark Austin, who played Boba Fett in the first Star Wars: Special Edition. We worked with a Boba Fett fan film writer, along with part of the Boba Fett Fan Club "think tank," to shape the show just right. We're even on IMDb.
In July, we were awarded our first San Diego Comic-Con press pass. Two of us covered the event with video, photos, and lots of social media posts.
We've started doing more original video content, including stuff with Daniel Logan, like documenting him getting his own Boba Fett costume. We also joined him at the Scum and Villainy Cantina in Hollywood.
In April, two of us went to Star Wars Celebration Orlando and we put together a highlight reel each day every day. Check out day 4 in particular.
On January 27, a video at Disney World from a BFFC fan that we helped get some eyeballs got a big boost by being featured on Mashable.
2016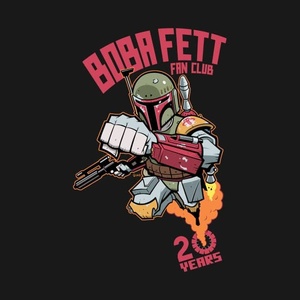 On October 3, our Twitter account got "Twitter Verified." Quite a cool milestone with just over 5,500 followers and tweets going back to August 2009.
On August 25, our Facebook page recently passed 30,000 likes. Incredible growth.
On July 4, we celebrated 20 years online! To celebrate, one of our favorite artists Jason Goad was up for the challenge of designing a graphic to work on a t-shirt. He knocked it out of the park. All proceeds go to Jeremy Bulloch's favorite charity.
2015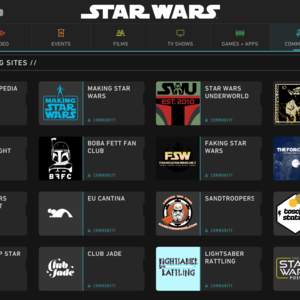 On October 10, our Facebook page passed 10,000 likes. That's a boom of about 7,500 within the last year — a real sign of the times of social media dominance.
On May 17, the official Star Wars website at starwars.com graciously added us to their Community page, which lists notible fan sites. The Boba Fett Fan Club is listed under "fan news and blog sites."
In April, we attended our first Star Wars convention — Star Wars Celebration Anaheim — with t-shirts and calling cards. We also conducted video interviews with Jeremy Bulloch, Daniel Logan, Dickey Beer, John Morton, and Mark Austin, along with several cosplayers including JC Fett. We also snapped some cool pics of cosplayers like 14killstripes.
On April 1, we changed the name of the website to the Jango Fett Fan Club, complete with new logo and HTML. This April Fool's Day joke was less abrupt because, after one click or one view (thanks to a browser cookie), the temporary landing page would bring the website back the normal.
2014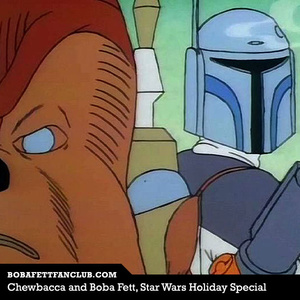 On March 11, we decide to start an Instagram account and vow to do one post a day every day! One rule is no repeats. Another rule is attribution. Take a look at the first one we chose.
2013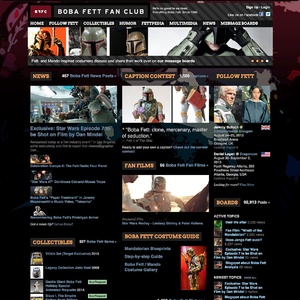 On August 22, we broke the news that Star Wars Episode 7 is being shot on film by Dan Mindel. While at an event for cinematographers, we were first to post online the news, officially from J.J. Abrams' choice cinematographer. The news made front page at Mashable, Gizmodo, AV Club, Yahoo Movies / The Wrap, JoBlo, Ain't It Cool News, IGN, Slashfilm, Latino Review, CNET, Huffington Post, TechRadar, The Verge, Collider, io9, MovieWeb, and more.
2012
We collaborated with Sean V. Lehosit who runs The Boba Bounty on many news articles. His site also hosted a feed of our "Follow Fett" calendar. Sean's impressive Boba Fett website caught our eye and we had to work together.
In August, we did a feature on the "As You Wish" helmet series on display at Star Wars Celebration VI in Orlando, Florida. The 40 custom helmets were put up for auction, donating to charity on behalf of The Dented Helmet and the 501st Legion. Joe Johnston and Sandy Dhuyvetter, two artists who literally made Boba Fett's costumes, contributed with their helmets of their own. Also, George Lucas attended the convention and was recorded saying Boba Fett didn't die in the Sarlacc, adding more to the lore that his Fett's status in Star Wars.
In March, concept artist Ralph McQuarrie passed away. He held a major role in the development of Boba Fett. We penned a rememberance in his honor.
2011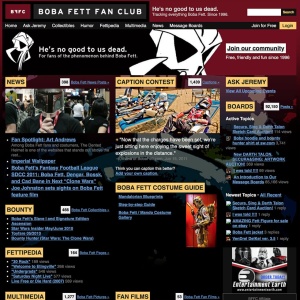 Between interviewing fans, holding caption contests, and tracking collectibles, we have a little more fun with a stylized Mythosaur skull as a home page banner element, designed by long-time BFFC fan Cujo.
2009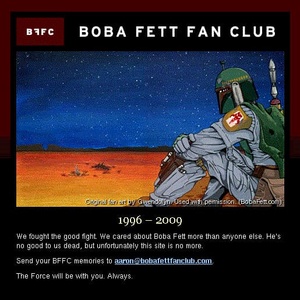 On April 1, we closed the site — but only for 12 hours. The April Fool's Day joke was believed by many of our younger regulars, but the die-hard fans didn't go for our stunt.
2005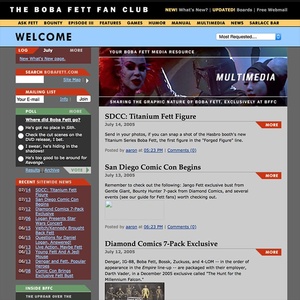 We make front page of the Entertainment section of The San Francisco Chronicle on 5/14, in Peter Hartlaub's article "Forget Anakin -- for die-hard 'Star Wars' fans, Boba Fett rules." One of the most awesome pieces of press we have received yet.
2004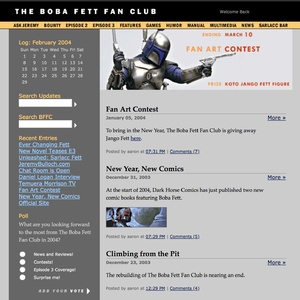 After a short hiatus with the site, we flipped to a content management system to speed things up, since the site previously was coded by hand. Less custom a design, but more cooks in the kitchen.
2002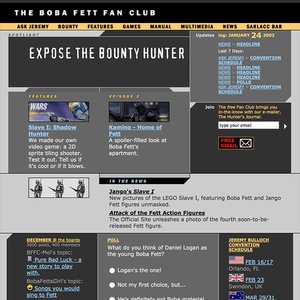 In 2002 IG88A's Bounty Hunters Inc. joined the network at bounty-hunters.com, one of the Fan Club's original addresses. (After several years, we stopped using that address after getting a bit too much e-mail about head hunters and actual bounty hunters.)
2001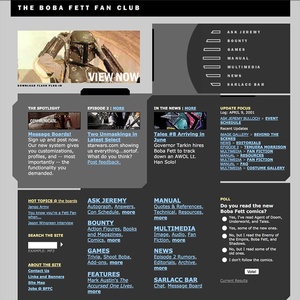 The Boba Fett Fan Club joined with Eric Cromwell's Asteroid-Belt.com, Boba-Rin's Boba Fett Homepage in Japan, and MICKY's Boba Fett Museum in Poland. Boba-Rin's site became the Boba Fett Fan Club - Japan Edition, and MICKY's site became the Boba Fett Fan Club - Polish Edition. Content was collaborative and the foreign sites ran for years to come.
2000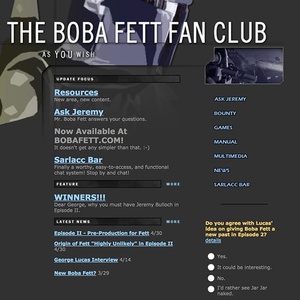 One day the "bobafett.com" domain name became available, and for no special price, we were able to have it. The previous owner, who used the site for non-Fett interests, even had lent us extra web space for free in previous years. Unfortunately, on June 15, Lucasfilm sent a cease and desist letter regarding "bobafett.com" and stating their commercial interest. On June 23, we agreed to turn the domain over, but we never heard back from them. After months of waiting for a response, while receiving great support from visitors worldwide, we decided to use the domain again.
With new hosting provided for free by a local design company in San Francisco called The Parlor, the site merged with Joe Carlson's Boba Fett Internet Archive — the original home, and creative force, for expanding the fan club.
1999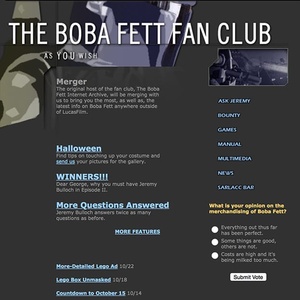 In May, the web site is featured and linked on the front of Yahoo.com.
The Vault returned to its original mission with the launching of this site at bobafettfanclub.com on April 1, 1999.
1997
By January 1, the site joined forces with Daniel Sully's Boba Fett Homepage, who allowed the site to be hosted pro-bono with the likes of JediNet, creating fun thematic elements like a members section of the site.

On January 27, U.S. News and World Report runs a photo and article on BFFC's founder, Aaron Proctor.
We also host a Greedo web site, featuring the bounty hunter Han Solo kills in Star Wars: A New Hope.
The relationship grew to include the support of Tyler Allison, the original inspiration for developing a Boba Fett web site, since he started the first Boba Fett site, The Boba Fett Pages, on his college server in 1995.
1996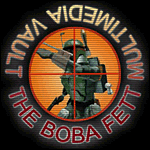 The Boba Fett Fan Club started on July 4, 1996 as a very small website for a monthly Boba Fett newsletter called "The Hunter's Journal," reaching 200 subscribers in less than six months — all in the age of Usenet newsgroups and AOL chat rooms were huge. We had initial support from Jesse's Boba Fett Page. We soon started to use the name "The Boba Fett Multimedia Vault" which at that time included the fan club. The founder, Aaron Proctor, was 13 years old.