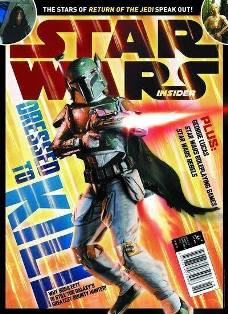 The latest issue of Star Wars Insider is now available on newsstands, featuring a cover story on how Boba Fett's popularity has endured and flourished over the last 30 plus years. As a contributing member of the Boba Fett community, I was left wanting.
In September, Jonathan Wilkins, Star Wars Insider editor, alerted followers of an upcoming Boba Fett feature on his Twitter account. He prompted fans to weigh in on a singular question: Why do you think Boba Fett is so popular? I imagined this was an initial way to mine data for early stages of research, but turned out to only be used to generate sidebar content.
The article did a well enough job explaining Boba Fett's in-universe adventures, from his debut in the Holiday Special to his life in the Expanded Universe. But was any of the information new or insightful? No, it was nothing that couldn't already be found on Wookipedia. While it looked at one writer's ongoing appreciation for Boba Fett, the story failed to look at the character's fandom as a whole.
Twitter is a tool for spreading information, but a poor substitute for in-depth research. If anything, hashtags can identify your target demographic. If you're taking a critical look at the fandom around Boba Fett, you must define which spectrum of fans to comb for data. One person's fandom may be limited to once wearing a Rubies costume for Halloween, while another fan scratch built his own Mando armor.
To understand the multi-generational love for Boba Fett, we really must look at a larger sample audience that omits far outliers. Also, if you're writing a story about why people love Boba Fett, why are these fans not spotlighted? There was no attempt in understanding how fans connect to the character or why they embrace him – is this not the central question at hand? Otherwise, it's just an editorial of one fan, not the story of enduring fandom.
Boba Fett appears in about 20 minutes of the Original Trilogy, which had a total running time of 385 minutes. Out of 108 episodes of The Clone Wars, he appeared in only six episodes – one of which was just an image of Boba Fett on a poster. Yet, in a recent IGN.com poll, 23 percent of 16,000 fans voted Boba Fett as the most wanted to return in new films.
How does that happen? Answering this question sheds more light on his popularity than rehashing his biography. The only way to approach an answer though, is to talk to the fans. Don't Insider writers interview creators to gain insight on the films and television? Or talk to special effects artists to gather clues to the creation of costumes and makeup?
From the responses on Twitter, one of the first things that drew fans toward Boba Fett was his visual appearance. Did artist Joe Johnston ever dream the look of Boba Fett would become so iconic? How does he feel about it 30 years later?
Let's talk to Star Wars authors and see how the legacy of Boba Fett has influenced their writing of Mandalorian story arc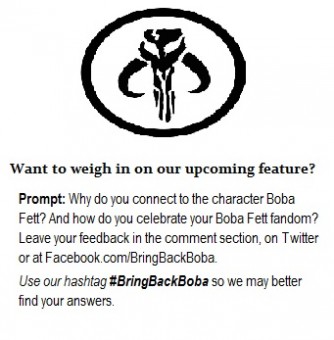 s. There are also a number of prominent and public Boba Fett cosplayers – what insights do they have, and what do their experiences at conventions say about the character's popularity?
This was a missed opportunity in my opinion. There was a great opportunity to show the moving parts of Boba Fett's fan community and explain why so many gravitate toward the character.
I want to emphasize, the article was well written. It's not the execution, grammar or style I was disappointed by – but the content. This editorial isn't just to critique the story, though, but to announce that I'll be scribing my own analytical news story, tackling the same question: Why is Boba Fett so popular?
Answer the prompt in the box on the right and we'll follow-up with you to elaborate on your comment.