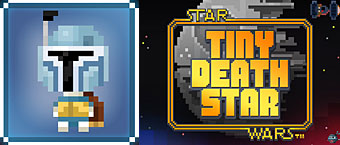 As part of the latest game update to Star Wars: Tiny Death Star, which introduces Probe Droids (aka Imperial Decorator Droids) to decorate the floors with Christmas lights, you are challenged to repeat this effort 20 times within two one timeframe.
[Update: As of 12/17, according to Google Play app page, the disappearing decorations bug is fixed.]
First, as of our date of publication here, there are 23 days for the overall challenge. Second, we've seen Christmas lights disappear from floors overnight, so the 20 floors need to be done quickly. These "decorators" don't arrive too frequently and can be "summoned" for a cost.
Now, we've been playing the game for a while, both to unlock Boba Fett and achieve the "Bounty Hunters" floor, and done so without spending a dime. But this challenge may be next to impossible to do without a chunk of "Imperial bux" in your digital wallet. Head's up.
In a prior update to the game, the free game linked up with a service that trades your sign up information with "bux." For example, being at least 13 years old (or parental permission) and signing up for a paid Hulu trial, you could boost your digital cashflow. And, as representatives of frugal money saving so you can maintain your physical Boba Fett merch stash, you can cancel that account without being penalized after 3 days of the trial. Food for thought, fellow Fettmeisters.
(Special thanks to Matt Booker at JediNews for the exclusive tip off and screenshots.)