Note: The following blog entry contains SPOILERS to "Star Wars" #9.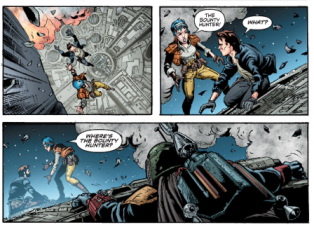 We're now nine issues deep into the first story arc of Dark Horse's "Star Wars: In the Shadow of Yavin." The story by Brian Wood is superb and continues to capture the spirit of the Original Trilogy, the art is stunning every issue and the book keeps a swift pace – however, I feel this is a story better read in trade paperback.
Having to wait a month between each issue is frustrating, because Wood checks in with each subplot every time. While it's nice to provide face time to each fan favorite, it's like watching three minutes of a movie each day – sure, we'll get to the peak of drama eventually, but its sure taking a while to get there. Each week I keep hoping the next issue is where all the subplots will meet for a giant payoff.
In "Star Wars" #9, Luke Skywalker and Wedge Atilles escape custody and are maneuvering toward the data core to bug the communication system. We get a tie in to The Clone Wars, with Princess Leia receiving contact by the Audacity, a ship from the wartime era. The most staggered storyline, though, continues to be Boba Fett and Han Solo.
At the end of Issue #8, a long-awaiting gunfight was teased between the smuggler and bounty hunter. Promotional images further promised an engaging encounter, as we saw images of Boba Fett ejecting from Slave I to pursue Han Solo face-to-face.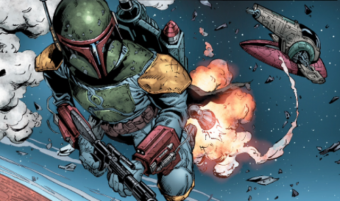 The dialogue written for Boba Fett is great, stating that Jabba pays more for his bounties to be turned in whole, rather than blown to smithereens. However, we're denied a decent gunfight, as Perla crashes a platform, quickly evading the bounty hunter. Also, we see Bossk hot on the tail of the Falcon, being piloted by Chewbacca.
In the previous issue, there was a passing comment about bounty hunters not usually crossing into Imperial compounds or stations. Unless we see it in the forthcoming issue, I think this was a missed opportunity. All the chaos and destruction and Imperial agents aren't swarming onto scene?
Woods could have had Imperial Troopers arrive on scene, and that, in my opinion, could have been a better distraction to allow Perla and Solo to escape. Also, more chances to show Boba Fett in action. Once again, we continue to watch the cat-and-mouse game between the two men – which I continue to have faith will result in a payoff in the end.
"Star Wars" #10 will be available Oct. 9.