When the new line of 6-inch Black Series figures was announced last year, it grabbed my interest. I've been eager to get my hands on the Boba Fett and Greedo figures in its second wave, and was nervous about distribution. The first wave was plentiful on store shelves, but it's common nowadays to miss new waves due to stores being back stocked on initial orders.
I spotted the first batch of wave two figures in my area at Target earlier today. They had about a dozen figures available on the sales floor, the majority of those being Slave Leia. I lucked out, though, and found a single Boba Fett and Greedo.
Whenever Boba Fett is featured in a line, they disappear fast. You could argue this is because Hasbro intentionally distributes lower quantities of Boba Fett, they're snatched up quickly by fans or scalpers hoard them to flip on third-party websites – I imagine it's a mix of all three. I wasn't taking any chances though and picked up the bounty hunters.
The packaging on the 6-inch figures should be commended. The design is sleek and elegant, and featuring headshots of each character with the Star Wars logo gives the package a high-end feel – along with the stylistic back, which features a brief summary of the character's role in the films and one of their well-known quotes.
The best part of its packaging is it can be easily opened without compromising the box. It's nice to be able to take the figure out, appreciate the craftsmanship and have the option to slip it back in the box to display like new.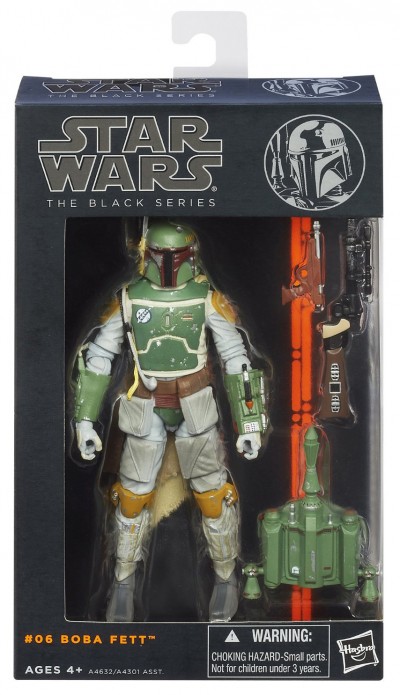 The Boba Fett figure is nearly flawless. The 6-inch scale allows for detail you just can't get in smaller scale. The paintjob is clean and gives the appearance of being well worn and subtle touches of battle scars. With about 15 points of articulation, he can be posed in any number of iconic stances and stands well balanced – with or without his jetpack.
The Boba Fett sculpt is the exact mold fans saw in the exclusive San Diego Comic Con and Celebration Europe Boba Fett with Han Solo In Carbonite. He comes accessorized with a rifle, small blaster and his jetpack. My only problem with this figure is the blasters are a little difficult to get into his hands – primarily the blaster rifle.
Boba Fett's helmet does not come off, which is a compliment to the film mythology of the character. It's also nice to see at this scale that Hasbro can sculpt and paint more detail into weapons. The blasters are firm, so there's less chances for barrels to get bent, twisted and mangled when removing from the packaging – always hated displaying an action figure who's pointing a bent blaster into the air.
These figures are well worth the $20 price tag and are even more stunning in person than what you've seen in pictures online. Has Wave 2 hit store shelves in your area yet? Are you seeing a fair amount of quantities of all figures?