Fan-made Boba Fett games and mods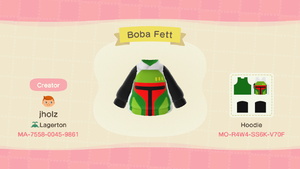 Free downloadable Boba Fett mods/skins for various games, including Animal Crossing, Fallout 4, X-Wing Alliance, Jedi Knight: Jedi Academy, Quake 3, Diablo, Jedi Knight, The Sims, Half-Life, DOOM 2, and Quake 2.
---
No longer updated, but here for legacy purposes

Our free RPG game for Windows. Made in spare time by a game developer, with the help of a fan fiction writer published on this very site.
"Shoot Boba" (Java required; no longer up-to-date)
Don't miss our tongue-and-cheek "shooter" game! Made in 1999 by our colleague in Japan, Boba-rin.
---