NOTE: Please see our Fett Fact Check for up-to-date fact versus fiction on this subject.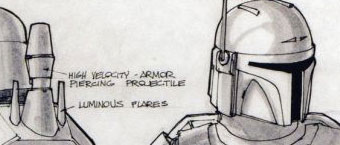 Over an investor conference yesterday, September 12th, Disney CFO Jay Rasulo referred to the Star Wars spin-off films as being origin stories, which Variety first broke. Rasulo added that "the market is extremely hot for everything Star Wars."
Looking at the past 35 years, it's been extremely hot for several years now.
Past speculation pegs these spin-offs to be around characters like Han Solo, Yoda, or — you guessed it — Boba Fett. The news here is simply an origin storyline, which has to do with the moment the hero/villain made them the person they are today. Comic Vine has a great run-down of all the comic book origin stories, many of which we've seen in film: Batman, Wolverine, Superman, Spider-Man. We've also seen them "rebooted," or revised after either flopping at the box office or being re-imagined a decade later (or less!).
Could this mean seeing Boba Fett between Episode II / Clone Wars (Animated) and Episode IV:SE, more specifically about being a bounty hunter? Or would Boba be a supporting role in any headlined effort? Leave your comments below!
Some back story for anyone late to hearing the full timeline of this news.
In February, we reported on the official news that there would be spin-off Star Wars films, where Entertainment Weekly emphasized a Boba Fett storyline.
Also in January/February, we ran a two part article on "what if" scenarios for a Boba Fett feature film. Check out part 1 and part 2.
Back in January, many directors including Robert Rodriguez (Sin City) were quoted as saying they'd love the opportunity. Later, J.J. Abrams made headlines for being the chosen one to do Episode 7, their main effort slated for 2015.
In July 2011, we noted that Joe Johnston (Captain America: The First Avenger and designer of the original Boba Fett) showed interest in a Boba Fett film, way before Lucasfilm was sold to Disney for $4.05 billion dollars.
Some comments on the news speculate whether this will be a re-boot or all work within the same (extended) universe of Star Wars. This was very important to George Lucas, who traded in Jason Wingreen's voice of Boba Fett for the consistent-with-Episode-2 voice done by Temuera Morrison (Jango Fett). (You can compare the audio files in our Multimedia > Audio section.)
###
To see how this news fits into the larger picture, follow the trail at our Fett Fact Check: Spin-Off Film one pager.