NOTE: Please see our Fett Fact Check for up-to-date fact versus fiction on this subject.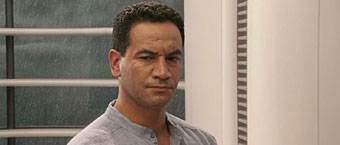 [Updated 7/9/2014: the cast info has now been wiped from IMDb, which may be either invalidity of those additions or wiping of early, yet-to-be-confirmed information.]
We're the first website to report seeing Temuera Morrison listed as "Boba Fett" alongside the Gareth Edwards "Star Wars" stand-alone film on IMDb. Check it out.
We also see "announced" on IMDb's page for Temuera Morrison. But that term is void of any further, literal announcement.
Two other actors, Mike Kasem and Mason Brett, are also listed on the page. One has many credits as a stuntman. Both of them are the same skin tone and also the same cheek/bone structure as the clones from the prequels.
Remember, IMDb (Internet Movie Database) is a mix of creator and user generated content, especially when it comes to future project records. However, unlike other sites, agents and managers can anonymously add to pages, which are then loosely vetted by IMDb's staff. For example, on Daniel Logan's IMDb page, his mention on the shelved TV series "Star Wars Underworld" at least gets tagged "rumored." For the sake of journalistic integrity, well done, IMDb.
We believe this mention on IMDb is newsworthy but not a formal confirmation of either Morrison's casting nor Edwards' spin-off film being the still-rumored Boba Fett film.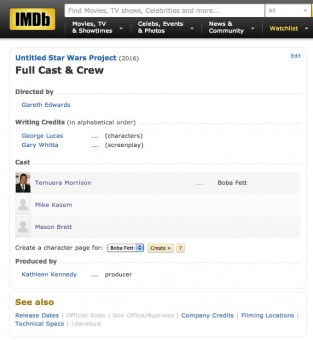 Database-driven credit listing sites, including MovieWeb (which currently lists Edwards' film as the Boba Fett story despite no such confirmation of that at all), are in the business of jumping the gun. There is no other announcement being picked up anywhere online — at least to our knowledge upon investigating — that announced Temuera Morrison in a forthcoming Star Wars film, nor that the Gareth Edwards film is the rumored Boba Fett film.
If this information is eventually confirmed by Lucasfilm, this news would be the tip of the iceberg that confirms Boba Fett is in fact the subject of the first stand-alone feature film set for 2016. This would also debunk the Lawrence Kasdan script as being the material, since the first film has an officially confirmed director and screenwriter.
Morrison played Jango Fett in Star Wars Episode 2: Attack of the Clones. Jango is Boba Fett's father.
(Helmet nod to @BitikoferAustin and @TheAutocons for the lead.)
What do you think of this latest rumor?
###
To see how this news fits into the larger picture, follow the trail at our Fett Fact Check: Spin-Off Film one pager.