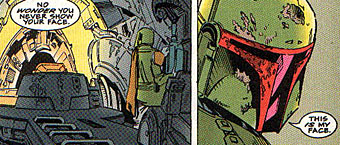 A writer known as derf_vader — whose work got picked up on the front page of io9 — explores the idea of the comic series "Twin Engines of Destruction" as a storyline. This was first published in 1996 and was written by Andy Mangels, who came up with the alias for Boba Fett, "Jaster Mereel," as well as the backstory that Fett was a journeyman protector. (Now, this story has since been re-written, accommodating the Episode II origin story that came in 2002.) Here's an excerpt from the article, focusing on the Jodo Kast vs. Boba Fett story:
Can fans appreciate a story with two anti-heroes facing off? Can fans appreciate a story where the only time you see the protagonist's face it is a scarred mess? Boba Fett probably never smiles, but you can still feel the smug emanating from behind that mask. … No matter what, fans are going to be divided about a Boba Fett movie. Why not give them two Boba Fetts to be divided about? And as far as EU goes, this is likely one of the cleanest stories that can be told cinematically without making a mess of so-called canon.
Read the whole article on io9.com.
Now let's put this into some context. A Boba Fett spin-off film is still just rumored. It's been a whole month since Latino Review believes Joe Johnston and Lawrence Kasdan are doing the rumored Boba Fett spin-off film. And it's been a month and a half since Jon Schnepp said "for a fact" that one spin-off film is about Boba Fett. Despite follow up queries to everyone, nobody echoed these claims en masse.
Expanding upon possible plots is something we like to publish — see here, here, here, here, and here — whew! We're also keen on sharing that more than one director has been vocal about taking on a Boba Fett film, such as Robert Rodriguez and Joe Johnston.
What are your thoughts on a "Twin Engines" plotline?