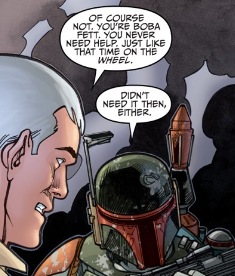 Last week the production team for "Star Wars Rebels" hashed out story ideas for season one. Fans have begun tweeting spoiler-oriented questions to producer Greg Weisman. Obviously, the team over at Disney/Lucasfilm isn't going to share anything at this point – but we can speculate – or hypothesize.
Here is a list of four ways Boba Fett could fit into the world of "Rebels," some of which is based on various levels of canon we've seen dealing with the Dark Times between Episodes III-IV.
When the Rebellion starts its leaders realize an important element of their cause is information. This brings rise to another group to counteract Rebel spies, none other than Imperial agents. While agents are initially created to gather data on Rebels, their roles evolve into manipulating politics, businesses and powerful families. These missions often times brings them working side-by-side or trading information with bounty hunters like Boba Fett.
After the pacifistic government of Mandalore fell, the planet was held together by the splinter group Nite Owls, led by Bo-Katan. The new regime blames the takeover that occurred on turning away from traditional Mandalorian ways. However, they become an enemy of the Empire due to not agreeing to bow down before the Emperor or fight for them. With the Jedi gone, Boba Fett switches from revenging his father's death to wanting to learn of his life and returns to Jango's homeworld.
Years after the Clone Wars ended, the Empire faces the problem of dwindling troopers. The Clone Troopers who survived the war are now aging progressively faster and there's no longer enough genetic materials from Jango Fett to create more. So, the Emperor recruits bounty hunters to hunt down remaining Jedi.
Boba Fett hadn't yet adopted his "work alone" mentality yet in the canon established in The Clone Wars. The increased demand for bounty hunters during the Dark Times stimulates the formation of a Bounty Hunters Guild, which an older Boba Fett quickly climbs the ranks within. Although, it's from his experience in the guild that he later decides to work alone.
How do you think Boba Fett could fit into 'Rebels?" Share your theories by commenting and at the #BringBackBoba campaign page on Facebook.