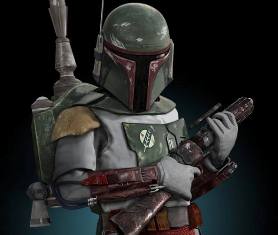 Let the rumors begin! Disney just announced it will debut a new animated series in fall 2014, taking place in the virtually untouched time between Episode III-IV. According to Disney officials, "Star Wars Rebels" takes place about 20 years before A New Hope. Catch the promo video below.
This is great news for fans of Boba Fett – as it provides a great opportunity to not only tie up loose ends from "The Clone Wars," but flesh out the rise of Boba Fett to the infamous role he plays in the Original Trilogy era.
We've heard there was a Boba Fett story arc planned for season six; we even saw an image of him in his Mandalorian armor. However, we never got to see his full transition from an angry orphan to a renowned bounty hunter. How did he wind up with his classic armor? How did he retrieve Slave I from Hondo?
It wouldn't be too hard to put Boba Fett in this new animated series, especially since they've already got the animated model complete for the character. There's also opportunity to show the foundation of Boba Fett's and Darth Vader's working relationship.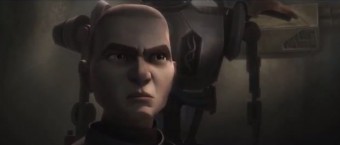 Since this series focuses on the Rebellion, this creates a place for bounty hunters as well. It was Prince Xizor who suggested the Emperor use bounty hunters as tools for the Galactic Empire in the Bounty Hunter War trilogy. He points out in the first novel, how there's an advantage to using these individuals for certain missions.
We see how useful bounty hunters are to the Empire in "The Force Unleashed II," when Darth Vader recruits Boba Fett to hunt down Juno to lure in Starkiller.
During this era, the Empire may even hire bounty hunters like Boba Fett to hunt down the remaining Jedi who escaped Order 66. There's all kinds of possibilities – not to mention, many fans would like to see the fallout of Mandalore – it in itself a channel to bring in Boba Fett again.
Let's also not forget in the time of "The Clone Wars," Cad Bane is the No. 1 bounty hunter. How does Boba Fett take hold this role?
We need to demonstrate to Disney the fan base of Boba Fett. His role in "Rebels" would also provide a good build up to get younger fans excited about a Boba Fett spin-off film. To show our support, we'll be starting a campaign to #BringBackBoba. It starts with a Facebook page, and hopefully we'll be able to grow from there.
Help us build the foundation for our campaign. Here is the Facebook page we've created, which will receive a shorter URL once we fulfill the "like" requirements.
"Like" our Boba Fett's Return in 'Star Wars Rebels' Facebook page.
[youtube]http://www.youtube.com/watch?v=0bdfFos3PYQ[/youtube]