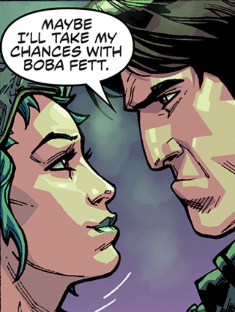 Note: This post contains SPOILERS to "Star Wars" #5
The last time we saw Boba Fett he had tracked the Millennium Falcon to a far reach of space, where Han Solo and Chewbacca were hiding within space debris for a rendezvous. The smuggler got away, but Boba Fett has now tracked Solo back to the planet Coruscant – and he's not alone – the Mandalorian has allied himself with the bounty hunter, Bossk.
I've been wondering when writer Brian Wood would check back in with the bounty hunter. In "Star Wars" #5, we finally catch up with this subplot – but it leaves us with more questions than answers. Han Solo has come to Coruscant to obtain forged identification papers, but he and Chewbacca must run for it when they realize they're being followed.
Boba Fett is torn between the two bounties which have been placed on the smuggler – the original bounty placed by Jabba the Hutt, and the latter by Darth Vader who specifically wants to get his hands on the Falcon. It's while juggling his options that he loses track of Han Solo.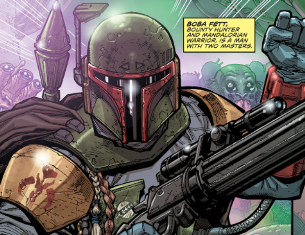 The Corellian managed to escape the grasp of Boba Fett and Bossk by accepting a proposition of an Imperial Sanitation Officer named Perla. She is aware of the high bounty placed on Solo's head, a smuggler herself, she capitalizes on Solo's predicament by offering him a getaway for 10 percent of the bounty reward.
There are a few things to note about this issue: the first is Wood seems to have adopted the retconned relationship between Boba and Bossk – mainly that they have a working relationship that seems (thus far) friendly.
Is this acknowledgment of the history of partnership we saw in The Clone Wars or the shaky partnership forged in the Bounty Hunter Wars trilogy of books?
I continue to hope Wood has plans to devote an entire issue to the Boba Fett/Han Solo plotline, rather than giving a few panels to this story every few issues. I also hope he further fleshes out the partnership between Boba Fett and Bossk.
It should also be noted the illustration of Bossk is more similar to his tall and lanky appearance in The Clone Wars than depictions of him in comics and novels prior to any recon stories.
There's no hints as to whether or not Boba Fett will appear in "Star Wars" #6, but as the story arc concludes – I can only imagine Wood plans to tie up this subplot – meaning chances are strong we won't have to wait so long for another appearance by the Mandalorian.