Regardless of who you are, it's nearly impossible to not have seen David Rabbitte's work at some point. The well-established concept artist, illustrator, and animator has a curriculum vitae that covers an impressive range of pop culture as we know it, having worked with big industry names like Fox Animation Studios, Marvel, Topps, Upper Deck, Fantasy Flight Games, and of course Lucasfilm.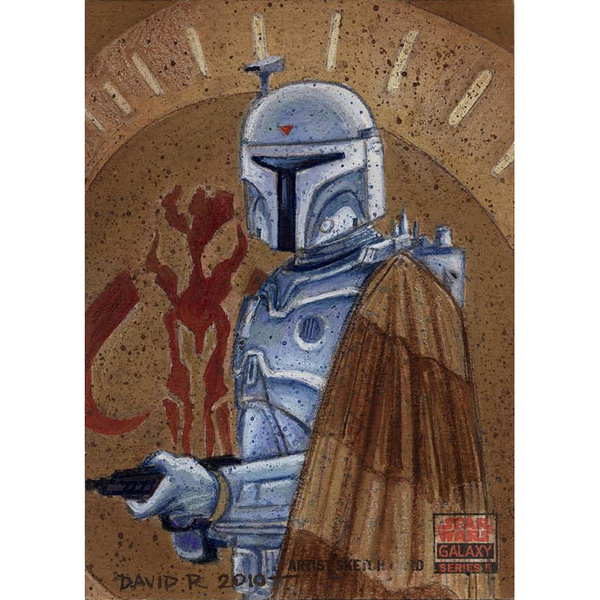 To offer adequate commentary on David's full portfolio would quite literally require writing a book. For starters, just his DeviantArt gallery alone contains a vast array of professional, personal, and commissioned work. Additonal samples of his work also continue to appear on his Facebook, Twitter, and Instagram accounts, and even on Wookieepedia. If that's not the definition of success, we don't know what is.
We are fortunate that David happens to have an affinity for Ralph McQuarrie and Joe Johnston's Boba Fett concept art and has chosen the white bounty hunter as the subject of several of his Topps Star Wars Galaxy return sketch cards. David is also the artist responsible for the Concept Boba Fett limited edition print that was created for Star Wars Celebration V.
For all of David's accolades and talent, what is perhaps equally as remarkable is how approachable and down to earth he is. Each email we received from David during our correspondence was detailed and thoughtfully written, and to our mild embarrassment always accompanied by a friendly apology whenever his response was not immediate. His answers in our interview are both fun and engaging, and we trust that readers will enjoy reading them as much as we did. Thanks David!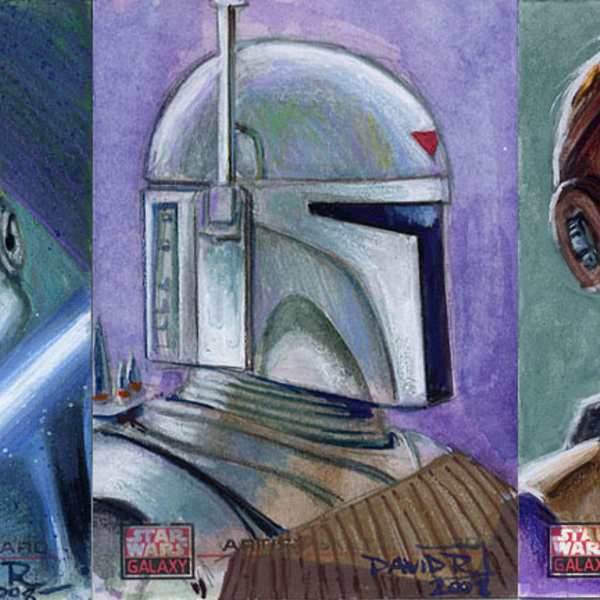 What are three interesting facts about you?
I once got to visit Elstree Studios when The Empire Strikes Back was being made. Well, sort of. I didn't exactly get to go inside, but my grandfather drove my brother and I to the building and we saw some interesting things, like the Empire wardrobe from the outside. We also walked into the reception office and I think there was a stormtrooper helmet on display. We did ask the receptionist if we could peek inside and of course she couldn't let us, but hey we were there, so had to ask!
I have a personalized autographed photo from Harrison Ford which I got when he was making Indiana Jones and the Temple of Doom.
I may have seen George Lucas once when I was at Disneyland. I'm not 100% sure but it looked like him and he was about the right height.
How long have you been a Star Wars fan?
Since the original movie came out in 1977. My Dad took my brother, myself and a friend to see it at a drive in. I can't remember my feeling after watching the movie, but it's safe to say I became a big fan thereafter. My friends and I used to play Star Wars after school, reenacting scenes from the film. Though we used to argue over who would play what character (I wanted to play Han Solo)!
How did you first know you wanted to be an artist?
I've been drawing since before I can remember – I guess I realized it over time as I continued to enjoy drawing and being creative. I think by the time I was in college I started to seriously consider it as my career.
What artists or artwork have been the most inspiring to you?
I guess Drew Struzan was one of my early influences, as well as Ralph McQuarrie and Joe Johnston. Also there is Tom Jung, Richard Amsel, Syd Mead, and Doug Chiang. There have been many more but that is just a few of my top influences.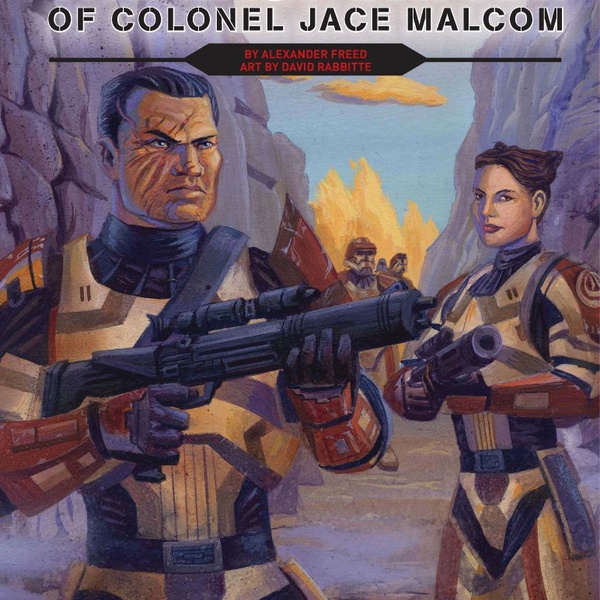 You have worked on a number of high profile projects in your career. What are your top three favorites so far?
Well I think doing art for the Star Wars Insider's short fiction was a big highlight for me, as I tried for the job for years, so when I got it, I was thinking, "Ok, I made it!". I did 2 stories, "Roll of the Dice" and "The Last Battle of Colonel Jace Malcom". A lot of fun to do!
I also did three pieces of cover art for an X-Men novel trilogy early in my freelance career, which was exciting as one of my goals since college was to be a book cover artist. Seeing those books on the shelves in Borders and Barnes and Noble were pretty exciting.
Working for Fox Animation Studios was a great experience. I worked there from 1995 to 2000, and I'm still very proud of having been involved in producing background paintings for Anastasia and Titan A.E.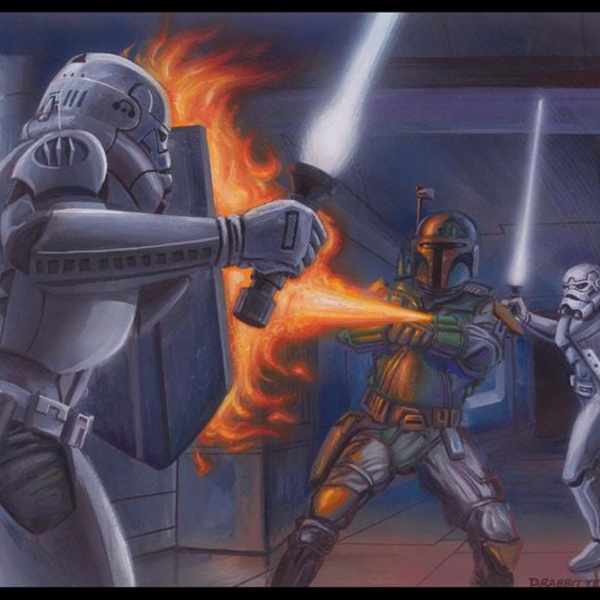 You have previously provided art for Topps Star Wars Galaxy sets. What was your favorite card to work on?
The sketch cards are fun, but illustrating base cards for the Galaxy sets I enjoyed the most. It's hard to pick a favorite, but I got a lot of good feedback for the Concept Boba Fett vs Stormtroopers with lightsabers scene (titled "The Flame of Fett")
You have also created exclusive art for Star Wars Celebration V. Out of all possible Star Wars characters, how did you decide on Ralph McQuarrie's concept Boba Fett?
I've always loved McQuarrie's and Johnston's concept art for Boba Fett, and I had to opportunity to create a giveaway as an extra for Celebration V, so I thought the subject would be fun for fans to collect. I think I only had about 25 prints, and they flew off the table the first morning!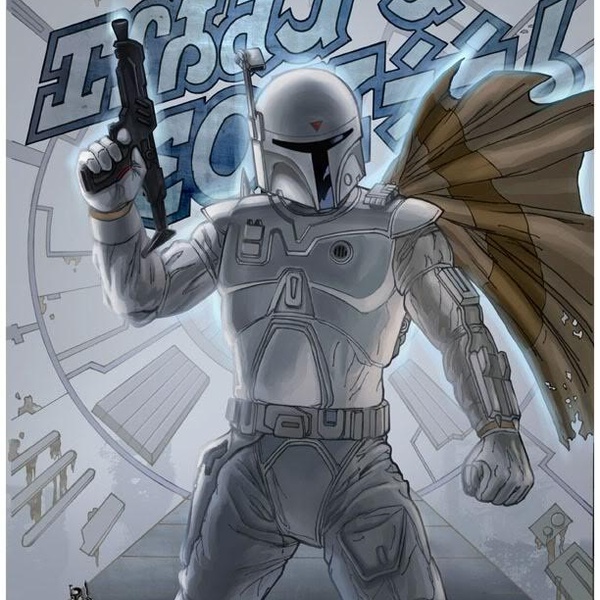 What was the inspiration and story behind the composition?
I wanted the background to have a Star Wars look, so that's what I came up with for the design, like it could be on Cloud City or an Imperial base. I remember it took me a while to decide on the color – originally Fett was going to be more colorful like he is in the movie, and the background was going to be something like green or blue, but eventually I thought "Why don't I just make everything white?" Evidently it worked. The title behind is from the animated Star Wars short in the Holiday Special, which is sort of associated with Fett, so I thought it would be fun to include it.
If you could give just one piece of advice to aspiring artists, what would it be?
I think it would be if you have a passion to be an artist, never give up because of a few rejections from publishers, and be patient – sometimes success can take years. Start by getting your work in smaller publications, and work your way up. Also learn as much as you can from those who have been inspired by.
Lastly, what is your dream goal as an artist?
Right now I'm happy where my life is, I'm working full time as an artist for slot machine games, security has been more important to me lately! But one of my goals is to continue to improve and learn new techniques to create art that hopefully people will enjoy.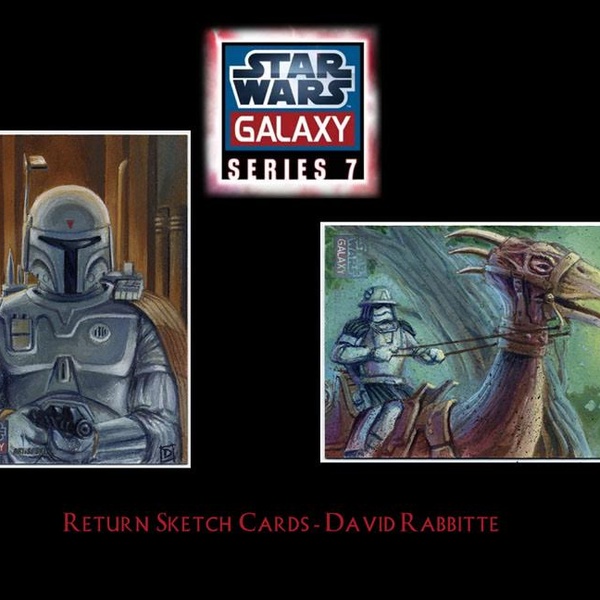 About the Artist
David Rabbitte, concept artist, illustrator and animator, was born in Cambridge, Massachusetts and lived in the U.S. until his parents decided to move the family back to their roots in Ireland when he was eight. David lived there for sixteen years for the most part residing in the quiet countryside in County Galway before moving to Dublin in '89 to study Graphic Design, Illustration and Animation. After completing art school, David soon landed a job as a background painter at Don Bluth Ireland Ltd animation studio in '93 working on his first feature The Pebble and the Penguin. A year later Bluth moved his crew to the U.S. in Phoenix, Arizona where they worked under 20th Century Fox's new company Fox Animation Studios. It was there that David worked as a background painter and concept artist on features such as Anastasia, Bartok the Magnificent and Titan A.E.
Since then David has continued to work in various studios, most notably Fat Cat Animation on projects such as Fat Albert, Curious George and the award winning short Rindin the Puffer, as well as working in freelance illustration for various well known clients such as Lucasfilm (on numerous Star Wars projects), also Marvel, Byron Preiss Books,Topps, Upper Deck, Inkworks, Sabertooth Games, Decipher, Fantasy Flight Games to name a few.