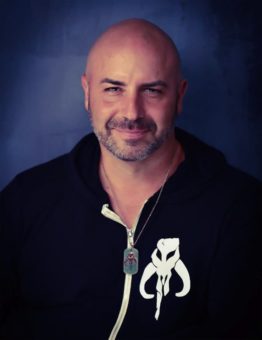 How many people in the world have watched Star Wars as a child, dreamed of being in that universe, and after two decades of acting finally achieve the goal of being a part of that galaxy far far away? For most it's only a distant dream, but for veteran actor Dominic Pace it is now a part of his life story after landing his first Star Wars role in "The Mandalorian."
Ever the humble gentleman, Dominic will be the first to emphasize the fact that he plays a side character. This is technically true, in the sense that he will not get the same amount of screen time as the likes of Leia, Obi-Wan, or Finn. However, as Star Wars fans know, limited time on screen has never stopped characters from being just as loved and there is perhaps no better example than one of Dominic's personal favorites: Boba Fett.
Dominic was kind enough to share some insights on his childhood love of Star Wars and acting, and how it all culminated in being cast as a bounty hunter himself in the first ever live action Star Wars television show.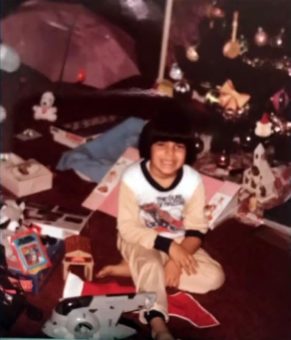 What was your earliest Star Wars memory?
Being raised by a single mom, our family didn't have much money when I was growing up but she always found a way to provide for us. I was five years old in 1980 and we lived in Ossining, NY. My mom got me the original Kenner Creature Cantina playset along with the figures of the characters from that scene. I have always had a strong interest in the side characters like the then-named Walrus Man and Hammerhead. And Greedo too, of course. I can still remember planting their feet on the pegs. I also had a magnetic board with the letters of the alphabet and numbers, and the first word I remember spelling on it was "Jawa".
[Video embed no longer available as of 11/2020.]
I understand that Boba Fett is one of your favorite characters. What were your early impressions of Boba Fett that made him stand out to you?
Yes! What kid doesn't love a jetpack? Not to mention his cool helmet and armor, of course. That continues on with his ship, Slave I. There was something very special about his mysterious nature in the original trilogy. I also like the fact that he was introduced in the Holiday Special. There is a certain nostalgia to it, and for me is very much a cornerstone of Star Wars.
What are your favorite Boba Fett items in your collection?
My original Kenner Boba Fett figure, and now also the LEGO Slave I set that I built together with my sons.
How did you get your start as an actor?
Acting was something I enjoyed from a young age, and I love the adrenaline rush of performance. I starred as Danny Zucco in our high school's production of Grease. Almost 1,000 people were packed in the auditorium. I loved it. I went to college for one year at Marist College in Poughkeepsie, New York as a communications major because nothing else seemed interesting to me. After experiencing firsthand how expensive it was, I told my mother that I wanted to pursue a full time career as an actor.
I started out auditioning for any role I could in student and independent films in New York City for about a decade before I began landing guest starring roles on national television. The business is difficult but I knew that going in. Every week is a new challenge, as well as an ongoing process of improving your craft while finding work with the help of your agent and manager.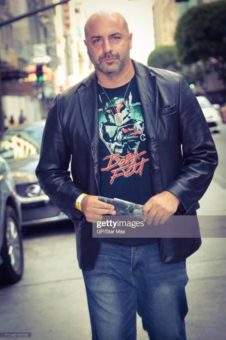 What was your first impression of "The Mandalorian" when you initially heard about the show?
Personally, being a fan of Boba Fett I was hoping it was going to be a story about him and that an escape from the Sarlacc Pit finally gets to be canon! Even now there is still a small part of me that secretly hopes, by the end of season one, it is revealed that the Mandalorian is in fact Boba Fett.
Wishful thinking aside, I am confident that Jon Favreau and Dave Filoni have a brilliant story for us.
Also, any production that has as big of a budget as "The Mandalorian" has is going to be very easy on the eyes. I am very excited to see all the special effects!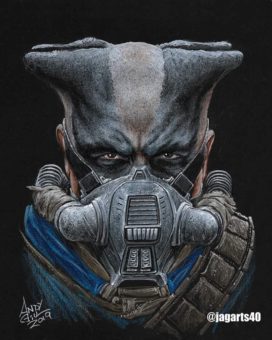 Your character is a bounty hunter nicknamed "Gekko." What is the story behind the character's design and development?
On the first day I was shown three wardrobe options. Two of the three involved helmets. Because I was initially invited to be on the show through a makeup test by Brian Sipe at Legacy Effects, they went with the costume without a helmet: black boots, gloves, a dark blue robe, and a bandolier. The costume designer examined the ensemble after I was fully dressed, and decided to add on this cool-looking oxygen mask. Then off to makeup I went, which took two hours to apply. Brian was inspired by a gecko prosthetic he had created for a photoshoot that was used at a green energy convention the year before, hence the nickname "Gekko" that appeared on my makeup trailer's door. The original rounded shape were eventually reshaped into horns to give the character a more menacing look.
Do you have any favorite memories from your time working on set?
On the first day of filming for me, I'm walking onto the set and who is there but the creator himself, George Lucas. Seeing George in his element and to be there while in full makeup along with Kathleen Kennedy, Jon Favreau, and Dave Filoni was incredible.
Being able to pick out my character's weapon was also something very special. We've all heard the story of how Samuel L. Jackson got to pick out his lightsaber on the set of The Phantom Menace, so it was an absolute dream to be able to do the same with my blaster. Being 6'4″ and 260 pounds, I had to pick the biggest rifle on the prop table. I knew it meant it would be more weight to carry around all day but I didn't care. I loved it!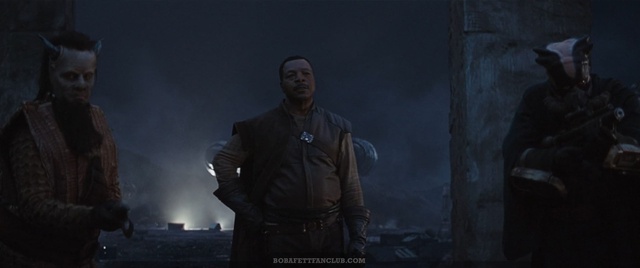 No matter how hot I was in the costume or how long the days were, my adrenaline was pumping. To add to the magic, I was flanking a legend in one pivotal scene: Carl Weathers. As an Italian American, the Rocky series inspired me immensely as a kid. Weathers was a legend in it, and to stand there next to his presence and voice in the Star Wars universe was priceless. On top of that, I've also always wanted to shoot a blaster in the Star Wars universe and I had the privilege of doing that. To be in an action sequence in my favorite franchise was beyond words. When I was eight years old I remembered the first applause I heard in the movie theater was from the sail barge action sequence in Return of the Jedi. I hope the scene I was in will get another applause from the fans watching at home!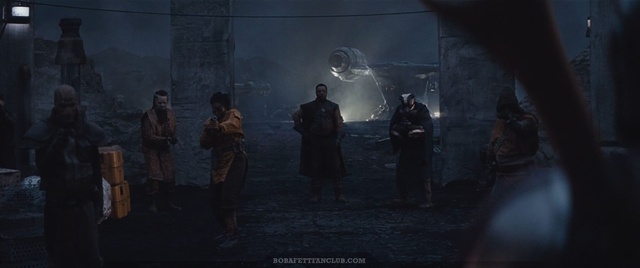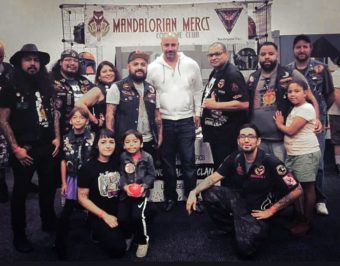 What does being on "The Mandalorian" mean to you?
Landing a role on "The Mandalorian" symbolizes not only decades of persistence in the business and never turning down work, but also represents why I wanted to be a part of this business to begin with. It is very much a return to childhood, and to be in awe of the Star Wars universe all over again. It is such an honor to have this opportunity to inspire future generations of children and fans.
Thanks Dominic!