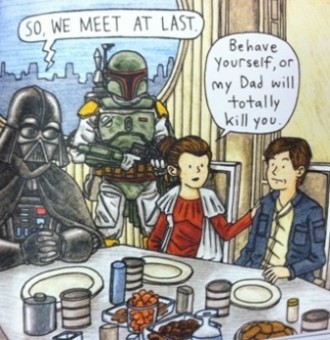 Last month, children's book illustrator Jeffrey Brown followed up his bestseller Darth Vader and Son with another instant hit, Vader's Little Princess. This cute story takes a look at what fatherhood would be like for the Sith Lord if he was forced to raise a daughter who was a rebel – a fun play on words, since Leia, was in fact, a rebel.
Each page of this book shows young Leia as she grows older and the troubles Vader would have managing his daughter – from teaching her to fly a TIE fighter, to dressing appropriately and spending too much time talking with friends.
One of the funniest images is when she brings a boy home – instead of cleaning his gun at the kitchen table, as we've seen countless times in movies or television, Vader has Boba Fett standing menacingly in the background – who wouldn't ensure their date was home on time if the most infamous bounty hunter in the galaxy was keeping tabs on your night out!