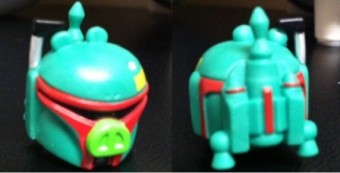 Earlier this year Hasbro gave a first look at the characters being introduced in Series 2 of Angry Birds Star Wars mystery bags. Each mystery bag includes two miniatures, including characters like Han Solo, Princess Leia and Boba Fett.
Reports came in a few months ago that Series 2 had popped up overseas. These items have finally made their way to the U.S. I've been checking the toy aisle at retail stores and finally saw the new mystery bags appear at my local Target.
We're still waiting for reports on the larger Boba Fett Power Battler, including a Han Solo target, to be spotted at local retail outlets.