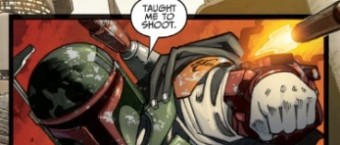 "Agent of the Empire" is a fresh approach to the Star Wars Expanded Universe that combines the traditional space opera with elements of espionage and secret agents. The adventures of Imperial Intelligence officer Jahan Cross take place before the events of Episode IV.
Last month Dark Horse Comics released the first issue of "Agent of the Empire: Hard Targets," which is the second story arch in the series. The first issue opens with a literal bang as Cross
tussles with Boba Fett – for reasons unknown to the reader.
SPOILER ALERT
Boba stops short of killing Cross, but warns the agent to not get in his way again. The scene ends with Cross stealing a speeder and taking off in pursuit of Boba Fett. Cross discloses his mission is, in fact, to get in the bounty hunters way.
Ten days earlier on Alderann, the home world of Cross, there was a celebration hosted by Bail Organa to honor the current Count Dooku – but things quickly turned sour after the count is assassinated by "Boba Fett" – or so it seemed at first.
After a short foot chase the assassin escapes via jet pack, removes his helmet and reveals himself as none other than Jahan Cross – who was under the impression he was assigned to kill the count because he was an enemy of the empire. He is later told by Agent Armand Isard the count was actually neutral, but was killed as a favor to a influential person close to the Empire.
Cross doesn't know what to think of this new information and struggles with the fact he may have killed an innocent man.
"Do you know the difference between you and a hired gun like Boba Fett, Agent Cross? You're cheaper." – Agent Isard.
The story is engaging and the colors pop from the panels with brilliant tones of red, orange and blue. John Ostrander's story promises an interesting premise and I'm excited for the remaining
four issues in the story arch. The illustrations by Davide Fabbri are rich in detail and the colors by Wes Dzioba explode from the page.
Release Schedule
"Agent of the Empire: Hard Targets #1": October 17, 2012 – More Info / Buy
"Agent of the Empire: Hard Targets #2": November 21, 2012
"Agent of the Empire: Hard Targets #3": December 19, 2012
"Agent of the Empire: Hard Targets #4": January 30, 2013 – More Info / Buy
"Agent of the Empire: Hard Targets #5": February 20, 2013 – More Info / Buy
(Originally published on The Boba Bounty.)