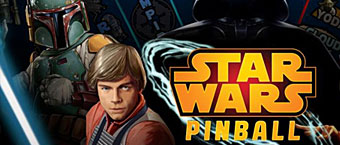 Back in February, we announced the Boba Fett table within the Star Wars Pinball game. The standalone game, Star Wars Pinball, includes the Star Wars Episode V, Boba Fett and Clone Wars tables we've seen before.
While it's a standalone application from the Apple App Store and Google Play, it's currently downloadable content within these games:
Pinball FX2™ on Xbox LIVE® Arcade
Zen Pinball 2™ on PlayStation®Network for PlayStation 3 & PlayStation Vita with Cross Buy entitlement! Purchase once and play on both systems!
Zen Pinball 2 on the Mac®App Store
Zen Pinball on the

Apple® App Store

Zen Pinball HD Google Play™
Joystiq has more details:
Players can choose to contribute their high scores to either the Galactic Empire or Rebel Alliance, with the game's interface changing dynamically depending on the global balance of power. The game will be Cross-Buy enabled at $9.99/€9.99, though anyone who already owns these tables in Zen Pinball 2 can download the new solo app for free. Likewise, anyone that purchases Star Wars Pinball will unlock the equivalent tables in Zen Pinball 2.
Don't miss the hint for the Boba Fett game released on the Zen Studios blog post:
Assist Boba Fett in completing two sets of bounties, or table missions, in an effort to gain RESPECT and secure his spot as the most badass bounty hunter in the galaxy. To activate the Galactic Empire bounties, spell out the word EMPIRE by shooting the middle-left orbit. Activate the HUTTS bounties by shooting the sinkhole under the seesaw ramp. Just watch out for the Sarlacc pit!