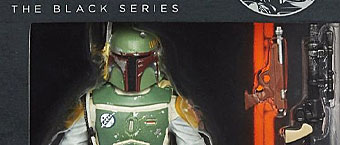 Updated March 28, 2014 with more stores!
After the San Diego Comic Con exclusive release, the regular Black Series Boba Fett release flies off shelves. Lately, months after its release, there's one place that we're finding across the country — thanks to Twitter — that regularly stocks the figure for its retail price: Disney Store.
According to the store's Wikipedia data, there are over 700 stores in the United States (as of 2001) and some others "located in malls and commercial areas in … Canada, Denmark, the United Kingdom, Ireland, France, Spain, Italy, Portugal, Belgium, Australia and Japan." For more accurate information, try their store locator.
Don't waste any time looking on their website. This is about their retail stores. Fortunately, one perk we're learning is that the Disney Store will apparently hold an item in stock for you. Save yourself the hassle, calling ahead, and see for yourself.
Bypassing the high prices via eBay, as far back as November 2013, we reported the figure was available in stores. In December, both Amazon and Toys-R-Us had very quick sales of inventory without scalper mark-up prices. Some of that inventory came in pretty beat up packaging, where Amazon even noted in the fine print: "minor cosmetic imperfection." In this case, the Disney Store's inventory is all in mint condition.
Now, on to our report. Here's our own stocking log. We'll update this as we hear more reports this quarter via your comments below and dialogue to fans via our Facebook and Twitter:
Western Areas of North America
CALIFORNIA

Disney Store, Santa Rosa, California (Seen 2/19/2014. Hat tip to EndorExpress.net.)
Disney Store, Modesto, California (Not in stock 2/25/2014. Helmet tip to James V.)
Disney Store, Northridge Mall, Northridge, California
Target, Simi Valley, California (Seen 2/27/2014.)
Target, Grenada Hills, California (Seen 2/27/2014.)
Eastern Areas of North America
NEW YORK

Disney Store, Carousel Mall, Syracuse, New York (Seen 2/28/2014. Helmet tip to Scott C.)
Disney Store, Times Square, New York City, New York (Seen 2/19/2014. Helmet tip to Kristin H.)

CANADA (EASTERN)

Toys"R"Us, 540 Centennial Pkwy N, Hamilton, Ontario (Seen 3/28/2014. Hat tip to Hammerhead.)
Middle Areas of North America
OHIO

Disney Store, Kenwood Towne Center, Cincinnati, Ohio (Seen 3/8/2014. Helmet tip to Brian T.)
Disney Store, Toledo, Ohio (Seen 3/3/2014 by AtlaskyPrime.)

WISCONSIN

Disney Store, SouthRidge, Wisconsin (Seen 3/27/2014. Hat tip to Firebreaker Chip.)

CANADA (MIDDLE)

Walmart (South End), 4500 Gordon Rd, Regina, Saskatchewan (Seen 3/8/2014. Hat tip to Jason P.)
Other well-stocked / well re-stocked sightings?
Did we miss somewhere? Let us know in the comments below.
###
Correction: We initially reported that the Disney Store was not owned by Disney. While this was true between 2004 and 2008, this is no longer the case.