NOTE: Please see our Fett Fact Check for up-to-date fact versus fiction on this subject.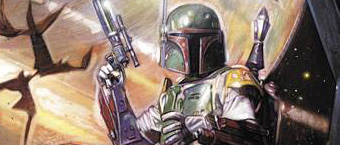 Disney hosted an executive breakfast today to talk about Star Wars. Fan site MakingStarWars.net got the scoop that Boba Fett apparently came up during the morning:
From what we have heard about the event, there was a lot of discussion about Boba Fett at the breakfast. The executives are apparently enthusiastic about the rocket man. There are some minor problems going forward with a film about a villain, however. The general problem with Boba Fett is how to use him effectively without ruining his evil essence to make him the protagonist of a Star Wars Spin-off film. The executive was overheard (paraphrased) as saying:

Lucasfilm wants Boba Fett to remain menacing and scary but we have to make him the hero of the film and it is a real challenge.

Lucasfilm is adapting the Marvel model for most of what they are doing but there isn't a clear cut precedence for a Boba film to follow. So far, Marvel hasn't been able to figure out how to make a villain into a hero while keeping the villain dangerous and evil outside of Loki's antics through various Marvel films.
Note that the exact source of which executive spoke, what he/she said without paraphrasing, and who in the room reported this news is not clear in the report.
What do you think?
(Helmet nod to TheForce.net for spreading this news from MakingStarWars.net.)
###
To see how this news fits into the larger picture, follow the trail at our Fett Fact Check: Spin-Off Film one pager.