Updated 5/4 1am PST:
JOE CORRONEY
30% off all items at his online store, which includes "The Slave Princess" and "The Empire Strikes Back – 30th Anniversary." Sale ends May 4th at 12am EST.
NEW WAVE TRADER
Place any order at newwavetraders.com on May 4th for a chance to win a Hasbro 300th Edition Boba Fett figure.
GAMESPOT
The gaming website is giving away a Sideshow Collectibles Prototype Boba Fett. On their article, they explain the rules:
How do you win? Make sure you're following @GameSpot on Twitter. Then when you see us use the hashtag #StarWarsDay, retweet that post for a chance to win!
SESSION KITCHEN in DENVER, COLORADO
Tipped off by Thrillist, we see that the Denver-based restaurant Session Kitchen (Yelp) is doing a Boba Fett themed entre for May 4th. "One of the entrees is the Pad Thai Amidala with Boba Fett-ucini, a bizarrely delicious combo of prawns, chicken, lemongrass boba, peanut, ginger, chile, and lime," notes the review. See the article for a picture of the dish.
---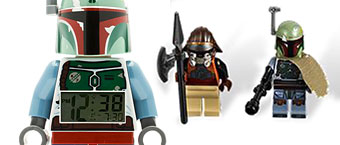 LEGO
Starting tomorrow and running until May 5th, LEGO has a nice sale going on for Star Wars fans. They tell us there's free shipping on all orders of $75 or more, free exclusive Darth Revan minifigure with LEGO Star Wars orders of $75 or more (while supplies last), and an exclusive LEGO Star Wars Poster with all LEGO Star Wars orders (while supplies last). Here's the merch on sale for May 4th and 5th only that's related to Fett and Mandalorians:
DARK HORSE COMICS
They're doing a promotion at digital.darkhorse.com for digital editions. Many Boba Fett titles are included. See their formal announcement. Head's up on one crazy deal called a megabundle that's $100 for $450+ worth of digital comics.
GOOGLE PLAY
For Android users, Angry Birds Star Wars and Star Wars: Tiny Death Star are already free, but they're doing a half-off on in-app purchases as well. See their announcement for details, which includes books and comics. There's also a pre-order on a Disney-ified version of Star Wars Trilogy: The Empire Strikes Back (Junior Novelization) by Ryder Windham, which features Boba Fett on the cover and appears to be a re-issue of an earlier book by the same name.
AMAZON
Amazon's own "May The Fourth Be With You Sale" includes some merch that includes the following:
They're also planning to have a Star Wars-oriented "Free App of the Day" on Sunday, May 4th.
Anything else?
Let us know in the comments!