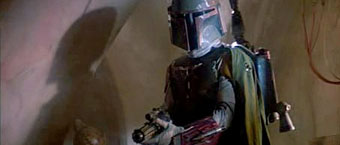 According to BestOfLuckProductions.com, and picked up on Ain't It Cool News, Steve Sansweet, Lucasfilm's head of fan relations, said at C2E2 that "Lucasfilm plans to revisit the original cast of characters from Star Wars in post Return of the Jedi adventures. However, it will be in the same animated format as The Clone Wars series running today."
But the report doesn't stop there. "Oh, there was one ominous thing he said though… not everyone who dies in sci-fi stays dead. He continued by stating we'll see what he means in 3 to 4 years." We don't think they're talking about the Emperor.
According to George Lucas, Boba Fett died in the Sarlacc. (See QuickTime or HTML). However, in 1994, Lucas approved of the Dark Horse Comics series where Boba Fett was found "slightly indigestible" and was back on the hunt for Han Solo and Princess Leia.
/Film also covers the story. Many fans comment on the site that Boba Fett will be there because it makes financial sense for Lucas. But what about the storyline?
IGN reports on more timeline and character information:
During the Q&A section of the panel, a fan said, "I would really love to see new adventures after Jedi with our favorite characters Luke, Han, and Leia," to which Sansweet replied, "And you will, in the new animation."
In four days, we'll see how cool — or uncool — Boba Fett is in the new Clone Wars animated series. (See our recent coverage.) Think we'll beg for more or cover our eyes if we see Fett on the trail of Luke, Han, and Leia?
On a related note, MTV.com reports that the Blu-Ray release of Return of the Jedi may feature another shot or moment with Boba Fett.