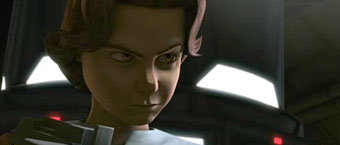 Premiering at WonderCon, this trailer is the first to truly see Young Boba Fett in action for his debut in the Clone Wars animated series.
On April 23, tune in to the Cartoon Network to watch — and the Boba Fett Fan Club to discuss.
See our previous post for more about the announcement and relevant publicity stills.
[youtube]http://www.youtube.com/watch?v=nvy7zsj0xEg[/youtube]
(via io9, Pop Culture Zoo, Big Shiny Robot)
Updated April 7, 2010: There's also a single teaser trailer featuring Young Boba Fett:
[youtube]http://www.youtube.com/watch?v=1QRHNXL1j74[/youtube]