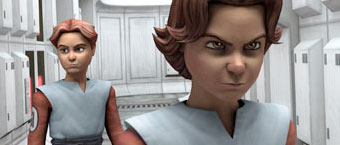 In the run-up to Boba Fett's first appearance in the new Clone Wars animated series, which begins Friday, April 23rd on Cartoon Network at 9pm EST and PST, a press release and two video clips were recently released.
StarWars.com press release:
An edge — and a mission. Determined to exact revenge upon the Jedi, Boba poses as a clone cadet to sneak aboard a Jedi Cruiser. It's easy enough for him to blend in; he is, after all, created from the same genetic blueprint as the rest of the clones — that of bounty hunter Jango Fett. But though he may have DNA identical to the Republic heroes', he nonetheless sees himself as a unique individual — with no affection for his genetic brethren.

"He's with the clones, but he's not one of them," says Logan. "He's special; that's how he sees it. And now he's alone. He had a relationship with Jango, like a father and son. None of the other clones had that connection; they're just soldiers, and now they're standing in his way. And that's one of things that makes Boba so cool, as a kid and as a bounty hunter — nothing stands in his way."
Big Shiny Robot got an special peek at an excerpt:
[youtube]http://www.youtube.com/watch?v=9Vu6UWmKS6Y[/youtube]
Empire Online did an exclusive interview with Daniel Logan about the experience:
[No longer online.]
Updated 4/23/2010 Wired.com and CNN.com also just published a story about the press release.