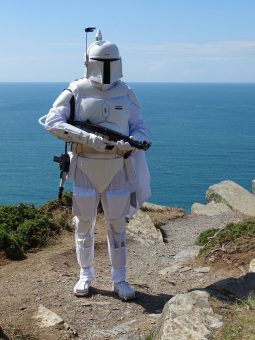 At whitebobafett.com, we first learned about Geoff Dymond's Boba Fett Prototype cosplay armor build in the form of an Instagram message from the highly discerning Boba Fett Fan Club, so even before seeing a single photo we knew we were about to witness something special. At their suggestion, we quickly clicked over to Geoff Dymond's Instagram feed and sure enough, we were not disappointed. The quality of his armor build was probably most starkly evident in the photos of Geoff standing side by side with the white Boba Fett armor display at the Hot Wheels booth at Star Wars Celebration 2016, where any meaningful difference in quality between the two completely escaped us. Read the comments on his Instagram photos and it's clear that we're not alone.
It turns out that not only is Geoff a master craftsman, but also a nice guy who graciously agreed to an interview with us. Read on as he shares his insights of the build as well as some tips for his fellow cosplayers.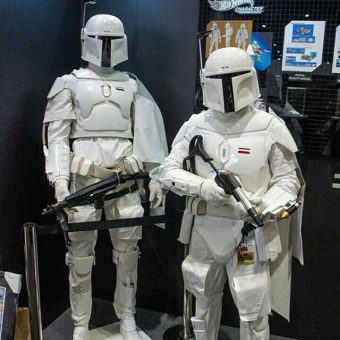 What is your earliest Star Wars memory?
I would say that my earliest Star Wars memory would be getting toys for Christmas. Imperial Troop Transporter, two Stormtroopers, Luke Skywalker, Darth Vader,R2-D2, and C-3PO, all of which I still have.
Your Instagram profile states that you are a prop maker. Is that your profession, and have you previously built anything else from the Star Wars universe?
My day job is a designer and metal worker. I've used my skills to make Boba Fett parts that I sell all around the world. The main bulk of the work is screen-accurate jetpack mounting hardware and reproduction divers belt buckles. I have taken on commissions for metal work parts for friends on Star Wars projects.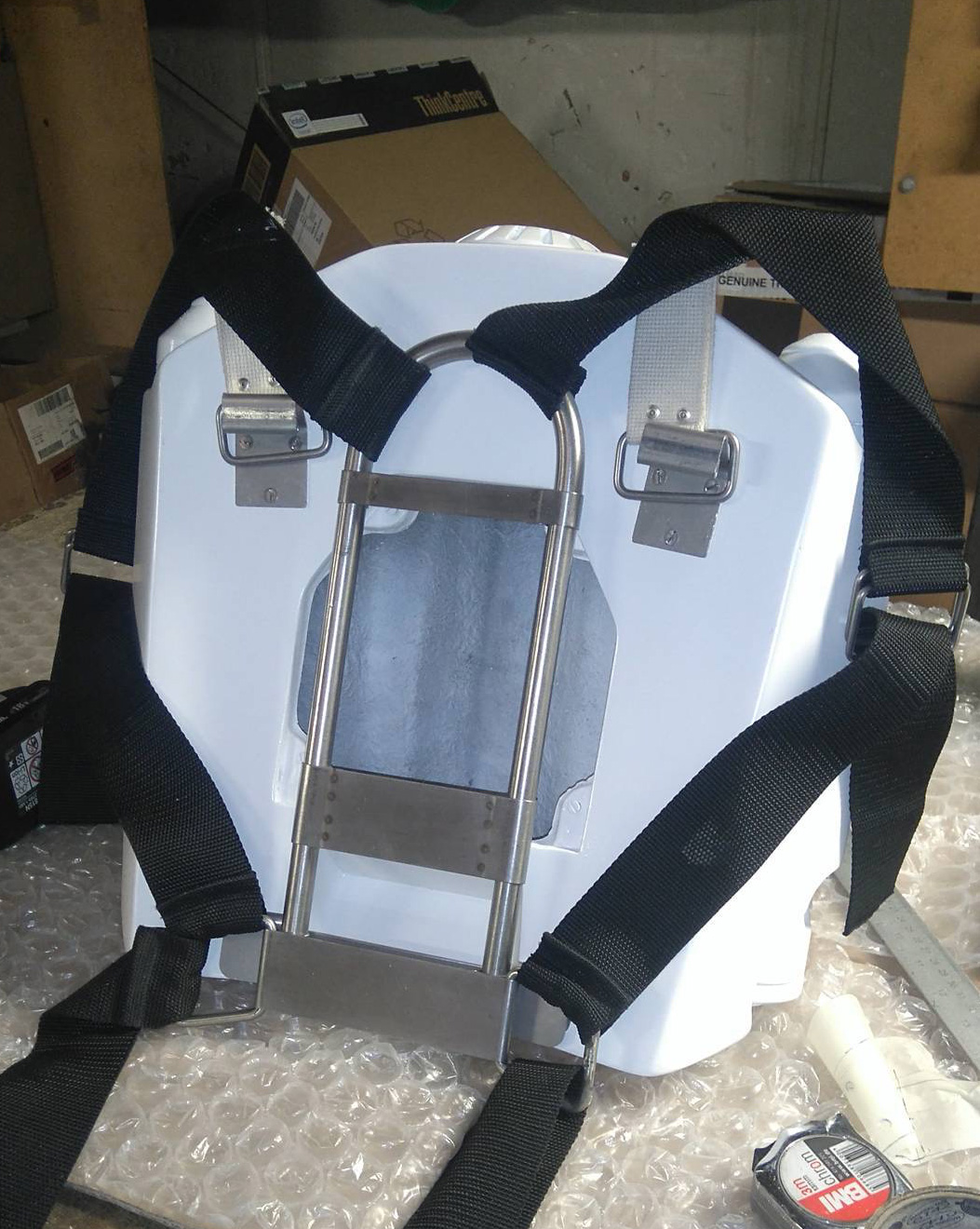 In the Star Wars world, both cosplay and in general, the white-armored Boba Fett prototype is relatively rare. What inspired your decision to build his armor?
The all white Boba Fett really caught my eye as soon as I saw it years ago. The clean lines and freshness are in such stark contrast to the final film image of Boba Fett, but still instantly recognisable. I gives you a very individual look, and an extra challenge in making it.
Your armor looks nothing short of incredible. What was your favorite part of the build? And the most challenging?
I'd say my favourite part of the build was the "Space Uzi" blaster. I didn't get to use it at Celebration because it wouldn't pass inspection as it's made around a deactivated Uzi. It was one of those rare parts of the build as it all came together without any trouble at all. All parts are original and I found them quite easily, even the rare "pinstripe" Graflex.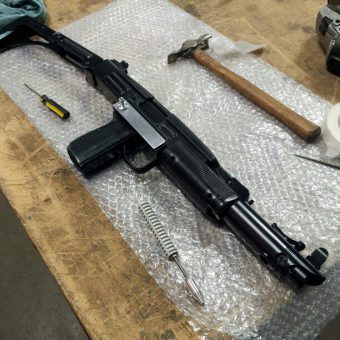 The two biggest headaches were the jetpack and the left gauntlet flame unit. The jetpack was giving me major problems with painting. I had to redo it twice due to poor coverage and bad paint reactions. The flame unit was a problem because of the lack of reference and no one makes them so it had to be scratch-built.
Although the gauntlet was used in the Pre-Production 1 and 3 costumes, references are not that great and some of the references seem to contradict the others. I have ended up making a very close representation but the weight is a little to much. I think I must have gone through three or four mockups before I was satisfied that I had gotten it as close as I could.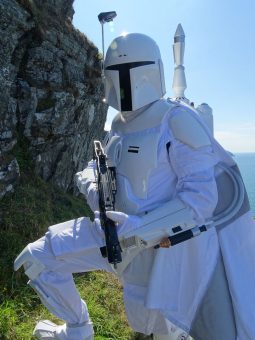 You finished the armor just in time for Star Wars Celebration Europe 2016. What are your plans with it moving forward? Will you be joining any troops?
I was blown away by the reception I had at Celebration. I'm now seriously thinking about joining one or more of the costuming clubs and doing some troops. I have friends in all the groups, but up until know I have been put off by some of the internal politics of some clubs.
The biggest thing right now for me will be having someone with less knowledge of the Prototype Fett having to look over my kit and say it's clearable.
Is there a Star Wars beach towel cape in your future?
The search for the beach towel goes on. It's a hard thing to come by at a reasonable price. I have even talked to people about reproducing it but I fear a few hundred might have to be done.
While I like the towel, I don't see it as a good idea to troop with it as it is a little goofy and it would never have made it into the film. More than likely the white and grey cape would have been used. It looks more fitting, especially while trooping with others.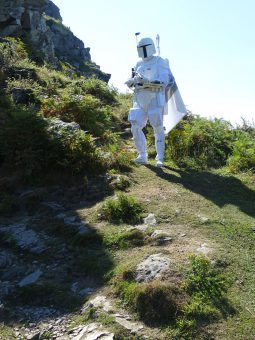 What is the best piece of advice you would offer to a first time armor-builder or cosplayer?
The best advice I can give is do some research. Then do some more research. Take your time to select the makers you buy stuff from, join the forums like The Dented Helmet and read the threads and ask questions.
Wherever possible, don't buy from online auctions. That's not to say everything on eBay is rubbish and the stuff you get from forum sales is perfect. Far from it in fact. I know of some rubbish from people who sell on forums and some really top quality gear on eBay. Don't be worried about using original found parts either. A lot of original parts can still be had for less than cast reproduction. Above all, have fun. Don't let people put you down. It doesn't matter if you spend thousands or make everything yourself, but it's about you having fun.
About the Artist
Resources used by Geoff:
Geoff Dymond is a designer and metal worker from the UK. Follow Geoff on Instagram, on Facebook, or look for "Full Metal Fett" on The Dented Helmet.
Destination photos by Raven Stone.
(Originally published at whitebobafett.com.)