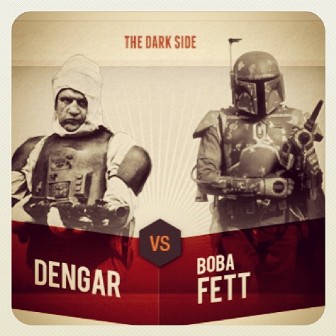 Earlier this month StarWars.com launched its This Is Madness Character Tournament, pitting popular characters against each other in a bracket style tourney until an ultimate winner is chosen on April 9.
Last night Boba Fett moved to the second round, after defeating Dengar by a landslide – receiving 96 percent of the votes. While exciting, the win wasn't too surprising. Casual fans are most likely unfamiliar with the character of Dengar, unless they've read 90's era Expanded Universe novels.
Today's matchup between bounty hunters Jango Fett and Bossk will decide Boba Fett's opponent in round two. Up until now the matches have been somewhat predictable, bearing no upsets and landslide victories, but I feel the Jango/Bossk pairing is more balanced and fair.
Boba Fett's second round matchup will happen March 25. I imagine votes would be torn if Boba ends up going against his father – but in the end I predict a close victory by Boba. Having Boba Fett pitted against Bossk is the more interesting match to fantasize about, especially with the history between the characters developed during The Clone Wars.
Looking further at the bracket – and assuming Boba Fett walks away with a second round win – he will most likely be facing Cad Bane in the third round. This round will be a war of eras; the prequel generation carries a torch for Bane, which will weigh against the fandom of original trilogy and EU generations.
One of the biggest obstacles in Boba Fett going the distance in this tournament are a handful of jaded voters, individuals who begrudge the Mandalorian bounty hunter simply due to his popularity.
In the meantime, let's relish in Boba Fett's victory! This tournament may just be for entertainment, but there's always a chance it's a marketing tool in deciding the direction of future projects. To ensure the people at Lucasfilm and Disney realize the strong fanbase behind our favorite bounty hunter – keep campaigning for #TeamBoba!