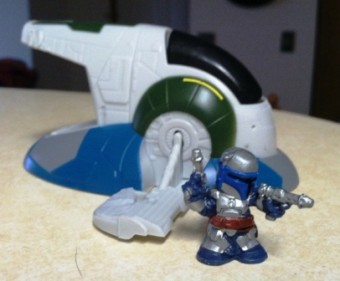 The last few months have been disappointing for Star Wars fans. We've seen The Clone Wars and release of prequel films in 3D cancelled, a postponement for Star Wars Detours and a few video games put on hold.
Some retail stores have also been consolidating their Star Wars merchandise. This past New York Toy Fair was reported as underwhelming in terms of new lines of action figures.
I walked into Wal-Mart a couple weeks ago to see they tore down the aisle display for its Star Wars merchandise. Besides Hasbro's upcoming Black Series, there are really no new waves of action figures being released this year in North America.
Therefore, the pegs are being filled with beaten, damaged figures on cards that are lying around warehouses or storage rooms.
During a grocery shopping trip earlier today at Target, I was not expecting to find the first wave of Fighter Pods Rampage Series 4 on the shelves. One of the new vehicle sets included with this new wave is the Slave I.
I failed to findmany images of Series 4 emerge from of the New York Toy Fair. Also, the Fighter Pod's website is not updated with images from its new wave, so it was a true treat. I successfully embarrassed my wife, as I performed a little dance of surprise and excitement in the middle of the toy aisle.
The Slave I is beautifully sculpted and painted in the blue and silver color scheme of Jango Fett. Since this toy line is known for releasing variants, I imagine we'll see another Slave I, painted in Boba Fett's color scheme, with an upcoming wave.
The set comes with three pods, which fit snugly at the rear of the Slave I – where the Cargo Bay is positioned. By pressing the cockpit window, the pod is launched or dropped from the vehicle. In my personal (biased) opinion, this is one of the most well designed vehicles in the Fighter Pods line.
This set also comes with eight characters, including new versions of Obi Wan Kenobi, Jango Fett, Saesee Tiin, Asajj Ventress, Luke Skywalker, Sandtrooper Hologram, Chewbacca Hologram and R-3PO.
Most of the characters and vehicles from Series 4 come from the prequel era and The Clone Wars. This is likely due to many toy companies having planned their upcoming lines to be released around the time the prequel movies were scheduled for release in 3D.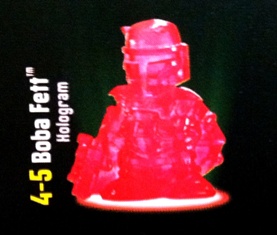 This first wave introduces a fourth version of Boba Fett to the series line – a Boba Fett Hologram figurine. The hologram is sculpted in red plastic, identifying him as part of the Dark Side characters. Boba Fett Hologram stands in a relaxed position, with his blaster resting at his side.
As far as I've seen, the Boba Fett Hologram can only be found in the product lines' blind packaging. However, I've not seen the full line of new vehicles or combo packs, so it might very well be found in those later this season.
I've only seen the Slave I set at my local Target, but nothing on the packaging hints at it being an exclusive to that retail location. If you've spotted this set at other stores, please let us know.