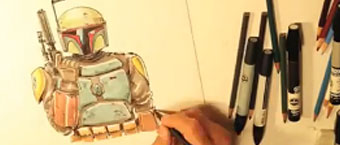 Joe Johnston, the designer of Boba Fett who also happens to direct blockbuster films like Captain America: The First Avenger, posted today a video on his new YouTube channel doing a time-lapse live sketch of Boba. Check it out!
[youtube]https://www.youtube.com/watch?v=7mxykWUaCPE[/youtube]
It's part of a larger effort that's not yet launched called JoeJohnstonSketchbook.com.
For some of Johnston's concept work alongside Ralph McQuarrie, check out this front- and back-facing sketch. In recent years, there's also a portfolio of sketches for sale called the Boba Fett Artist Portfolio. Take a look at a sample of what that contains.