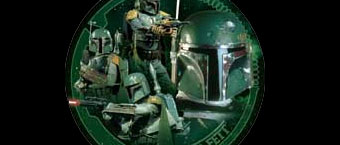 November isn't just about the turkey and stuffing this year. Next month, the new Star Wars Saga Series 3 collector's plates come out, to help you serve up your best.
Among them, this time, is a Boba Fett collectors plate worthy of any hunter.
The newest Previews Magazine (The Comic Shops Catalog), Vol. 15, #9, lists these plates as $46 each, and available for purchase some time in late November. Just in time to impress your dinner guests. You can order these through any local comic book or collectibles & novelties shop, so make sure to reserve yours today.