(UPDATE: This article is from 2005. See our always up-to-date Boba Fett holiday guide, maintained each year with the latest and greatest.)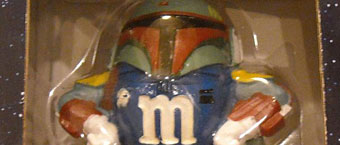 This year decorate your Christmas tree with some splendid Boba Fett holiday Christmas ornaments. The Kurt S. Adler company is coming out with five ornaments this year.
Some are already available for purchashee and the rest will be out by the end of September. Among them are the Mpire Boba Fett ornamnent, the glass Boba Fett figure ornament, and porcelain Boba Fett figure ornament. These can be purchased individually and range from $10 to $20 a piece, depending on the retailer.
The other two Kurt S. Adler Boba Fett ornaments you have to buy as a set. The first, offered on StarWarsShop.com, is a 5-pack of the two-inch miniature vehicle assortment ornaments, which includes the Slave 1. The second is a 2-pack of glass Star Wars head ornaments, featuring Darth Vader and Boba Fett.
Still not enough ornaments for the whole tree? Last but not least, the Rawcliffe Pewter company has two ornaments (in pewter, of course) that are already available in many stores and on e-bay. One is of Boba Fett's helmet and the other is of Slave 1. Both are attached and dangling from a pewter Star Wars logo. These are actually sculpts used before in the Boba Fett and Slave 1 keychains, also previously released by Rawcliffe Pewter.