Guide to Boba Fett Holiday Season Gifts and Decorations
Table of Contents
Boba Fett Gifts
Regardless of the time of year, we believe it is always great to gift Boba. Here are two options for you: you want to buy a gift or you already have a gift.
You want to buy a holiday-themed Boba Fett gift:
Looking for some officially-licensed Boba Fett items that are directly related to the holiday season? We organize all of the holiday ornaments but that's not everything.
Here's what new for 2019:
Here are other picks from years past that you can still track down online:
Some other suggestions:
Amazon has a 68% off sale right now for the Funko Smuggler's Bounty boxes, including the Boba Fett one with Han Solo in Carbonite.
In 2005, Lucasfilm released the Star Wars: The Complete Saga Blu-Ray which includes the entire Boba Fett cartoon in the "Star Wars Holiday Special." While not holiday themed per se, it originally aired the week before Thanksgiving and is a great little story. Better than watching on YouTube, too.
Looking for something handmade and/or fan-made?
There are a few fun Christmas cards:
Some craftspeople who make Boba Fett Christmas Stockings:
Perfect for the cold weather, there are many, many crochet Boba Fett hats sold on Etsy. There used to be just one or two, but then came the masses. We haven't found any that we love, so…
Here's a list of the search results. Let us know what you dig in the comments!
Little Shop of Pins has a "Holiday Special" inspired Boba Fett pin.
Looking for anything at all related to Boba Fett? Browse our collectibles database, which provides links to online shops where applicable/recommended.
Looking to make a list for yourself or someone? Use your BFFC account to create a "My Bounty" list, which can easily tag items you want, like a holiday list.
You already have a Boba Fett gift:
Do you have something unique for the holiday season? Post your picture on our message board or our Facebook or let us know via our Twitter or Instagram
Boba Fett Holiday Spirit
Back in 2001, StarWars.com produced an online animation called "Holiday at the Fetts." They no longer have it online, but we host the Flash animation and re-mastered it for YouTube:
Cameron Kim Jones made these cards in 2015 and they were available for a little while, but no longer. Here they are for posterity.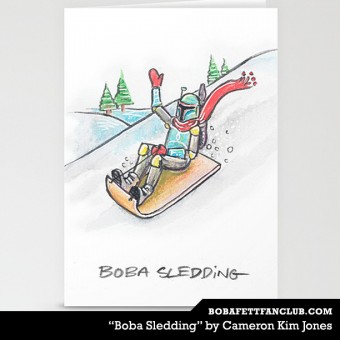 "Boba Sledding" by Cameron Kim Jones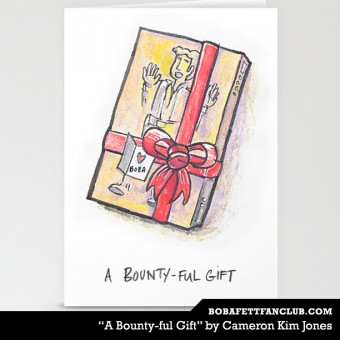 "A Bounty-ful Gift" by Cameron Kim Jones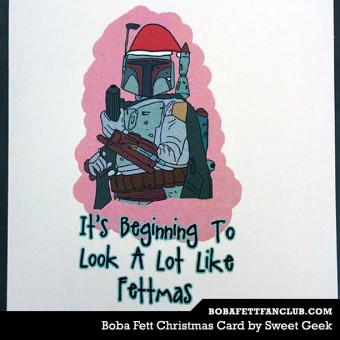 "It's Beginning To Look A Lot Like Fettmas" by Lesley aka Sweet Geek (no longer available from the artist on Etsy)
Boba Fett Decorations
You want to create a Boba Fett decoration:
You want to be inspired by others who have created a Boba Fett decoration:
See our list from Etsy crafters (above).
You already created a Boba Fett decoration:
Share your creations on our message board or on our Facebook!
Affiliate marketing disclosure
When you make a purchase through clicking on a vendor link at BFFC, we may receive a small commission. We hand pick links for official merchandise to vendors with great reputations with their costs, shipping, and customer service. We are independently run and make our own decisions — no pay for play. Best of all, there's no extra cost to you the user and all proceeds cover our costs to be online, with any excess donated or used for free giveaways. Thank you for your support!
Want to share this? Here's a helpful short URL:

Published November 17, 2013 • Updated