[youtube]https://www.youtube.com/watch?v=WDHvNcJM3Lo[/youtube]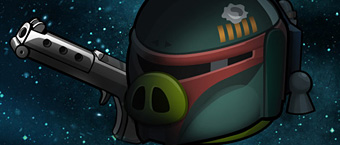 Rovio, makers of Angry Birds, just uploaded their latest trailer featuring Boba Fett's role in the upcoming Angry Birds Star Wars update.
MTV's Multiplayer Blog and MTV UK were quick to post some commentary:
Cloud City looks to add some interesting new obstacles, including steam grates that will have the birds changing direction mid-fling. But what's most exciting about the new levels is the introduction of Boba Fett. While players obviously won't be able to add the bounty hunter to their ranks, it looks like his jet pack will be more troublesome for the pigs than helpful.
Update: Here's the teaser trailer version that was uploaded first:
[youtube]http://www.youtube.com/watch?v=KMakVS-CMqI[/youtube]