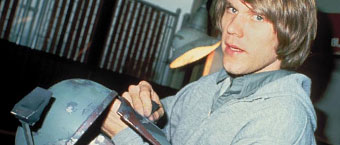 Joe Johnston, who designed Boba Fett, celebrates his birthday today!
Included in the 1997 book entitled "Star Wars: The Annotated Screenplays," here's a great quote about Johnston's creative significance in particular to Boba Fett:
"I designed the final version of Boba Fett. Ralph [McQuarrie] and I both worked together on preliminary designs, and we traded ideas back and forth. Originally, Boba Fett was part of a force we called Super Troopers, and they were these really high-tech fighting units, and they all looked alike. That eventually evolved into a single bounty hunter. I painted Boba's outfit and tried to make it look like it was made of different pieces of armor. It was a symmetrical design, but I painted it in such a way that it looked like he had scavenged parts and had done some personalizing of his costume; he had little trophies hanging from his belt, and he had little braids of hair, almost like a collection of scalps."
This birthday is especially notable for Johnston, who has been quoted as interested and then more recently rumored to be attached to an also-rumored "spin-off" Star Wars film that would be all about Boba Fett.
For more about Johnston, visit Joe Johnston Sketchbook and his entry on Fettpedia.