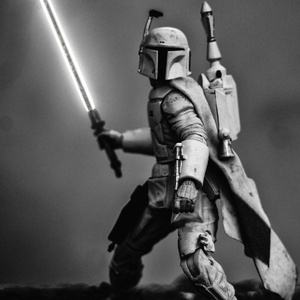 Passion can elevate people above and beyond what they thought was possible, and Rafael Robles is a perfect example of that. An attorney by trade, Rafael previously had no interest or background in art until one fateful day he stumbled onto the world of Star Wars toy photography and instantly knew he had to be a part of it.
To say that he has achieved this goal would be a profound understatement. Within a year, not only has he mastered the technical aspects of toy photography but has also succeeded in establishing a style of his own, something that commonly evades much more experienced artists.
This is certainly not the first time we will mention it and probably won't be the last, but the old adage is worth repeating: great photography always tells a story, and Rafael's images do exactly that. They are full of both style and intrigue, whether on the battlefields of World War II, within the Star Wars universe, or somewhere in between. Rafael is also not afraid of thinking outside the box, as one of the featured photos here is of a lightsaber-wielding prototype Boba Fett on a speeder bike. Fantastic.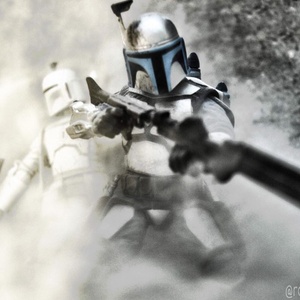 Rafael was kind enough to grant us an interview, and was both thoughtful and philosophical about his answers. They serve as great reminders of how Star Wars can unite people from all walks of life, and that we only grow when we are outside of our comfort zone as illustrated by Rafael's journey that saw a lawyer become a world-class toy photographer.
Tell us three interesting facts about yourself.
I don't think I have any interesting about myself. I think I am just one of the eight billion people who live in this immense rock called Earth, with some virtues and many defects. I work everyday to improve myself, moving away from my comfort zone, and avoiding judging other people. Life is short and death is certain. Walking with love and understanding everybody wants to be happy, no matter how they can reach their goals. I think the world will change only when I can change myself
What was your earliest Star Wars memory?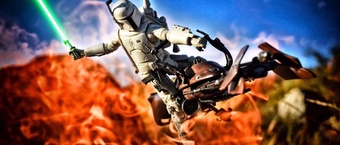 I remember my dad bought some classic Kenner action figures every Saturday for my brother and me in Mexico City, the city where I was born. I remember I had Luke Skywalker, Admiral Ackbar, and Darth Vader in my collection. Three decades later, I only have C-3PO. Waiting for Saturdays to get a new figure is the earliest memory of Star Wars in my life.
How did you get into toy photography?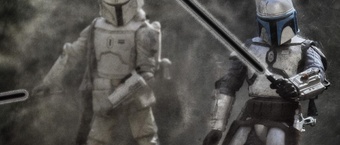 One day I was looking through my Instagram timeline I found some pictures of Star Wars figures. Being a lawyer, I used to be a man with no interest or education in arts, but those pictures unleashed a need to follow suit. I immediately went to my nearest flea market and I found a Obi-Wan Kenobi 3.75 inch figure and that's how I began this adventure in photography.
Who is your favorite Star Wars character to photograph?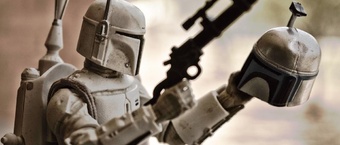 Definitely Mandalorian warriors Boba Fett and Jango Fett, and masked figures in general are the best to photography. That's because one important thing in photography is the emotion reflected in the face of people, or action figures in this case, and the eyes in the figures don't always accurately convey that. That's not the case in masked figures where the body language can replace the eyes' emotions.
How would you describe your style as a photographer?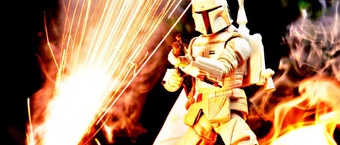 I try to capture emotions in inanimate objects such as action figures. Many of my pictures are product of images I have seen before in my mind and I try to recreate in camera exactly as I saw them. In addition to Star Wars figures, I also love to take pictures of World War II soldier action figures. I imagine myself being a (toy) combat photographer. I'm a self-taught photographer, and I mostly work with practical effects with the exception of lightsabers.
In the featured photo, Boba Fett prototype is fighting alongside Death Troopers. Who is he fighting and what is the scenario?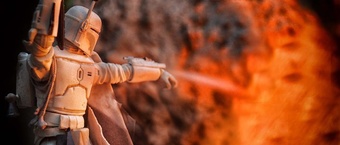 Boba Fett as a bounty Hunter sometimes requires from his costumers support to accomplish his missions. In this case, a high risk hunt, he demands personal support from the Empire's best soldiers: the Death Troopers.
Boba Fett shows leadership and fearless conduct being in front of the group. It is not enough to know about weapons; the real bounty hunter needs to understand strategy and how to hunt in a pack.
What advice would you offer someone who is new to toy photography?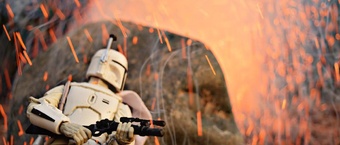 As in any other aspect of life, never compare with other photographers. Other photographers may have more experience, more equipment, more information, or fewer resources, less time, or less talent. You are unique and you should enjoy YOUR own process of being photographer. You are a photographer from the very moment you begin to take pictures, regardless of others' recognition or fame. Take pictures that you like. Begin with your first client: yourself. Prepare each image with love and respect and share with others.
Be open to learning something new. Always learn new techniques. Be humble, learn, and be proud of showing your work and receive critiques. Don't evaluate your work by the number of likes or applause. Do the job and don''t expect anything. Be grateful of the teachings from others. Remember, enjoy the way of toy photography.
About the Artist
Rafael Robles is a lawyer who lives in Hermosillo, Sonora, México. He teaches Criminology at a local University and currently works in local government in Crime Prevention policies. Rafael loves shooting sports such as archery and pistol shooting, and starting in late 2015 he has discovered the joys of photography. Rafael's work can be found on both Instagram and Twitter.
(Originally published on WhiteBobaFett.com.)