This fan spotlight is part of a series focusing on cosplayers who exemplify qualities in creativity, community-building, and craftsmanship.
When we first saw images of Matt's Ralph McQuarrie Concept Boba Fett costume on Instagram, there was something about it that we couldn't put our finger on. A quick glance at Matt's account @Matson23 shows that he is a highly accomplished helmet maker as well as a fan of prototype Boba Fett, as shown by his toy photography demonstrating how the white bounty hunter might look on Hoth (or Starkiller base) or this excellent custom Disney Infinity white Boba Fett figure. Social media is also filled with a plethora of Mandalorian armor-clad Star Wars fans and, for better or for worse, incredibly detailed and stunning armor has become the norm and this one is certainly no exception.
Except Matt's armor is anything but the norm. An online image search confirmed our suspicions: there does not appear to be any documented full set of McQuarrie Concept Boba Fett armor. This is the first one we've ever seen, possibly even the first to ever exist, and it looks nothing short of spectacular. That left us no choice but to get in touch with Matt, who was kind enough to allow us to pepper him with questions so we may all get a glimpse of the process behind this truly one of a kind armor build.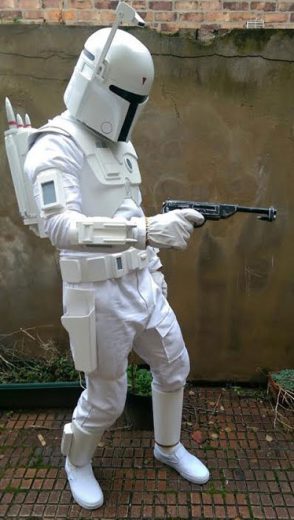 How long have you been a Star Wars fan, and what was your earliest Star Wars memory?
I've been a Star Wars fan for as long as I can remember. I was born in 1979 so I pretty much grew up with it. My earliest memory is probably playing with my friend in the mud out the back of our houses with the Millennium Falcon and a bunch of figures. I remember he had an AT-AT and I had an AT-ST and we used to swap all the time.
We don't see many Ralph McQuarrie concept Boba Fett costumes out there. What inspired you to make one?
That's right, you don't see many McQuarrie ones. In fact, before I made mine I searched the internet for a long time looking for research shots and builds. Some people had started on the chest or cast a helmet, but never a full build. I think mine is the first. As I mentioned before, I've always been into Star Wars but it was the Ralph Mcquarrie concept paintings that made me love it. George Lucas was the driving force for Star Wars, and Ralph McQuarrie was the vision I believe because his original works really captured my imagination. Anyway, I'm a big fan of McQuarrie's work and I'm a big Boba Fett fan so I guess it was a no brainer.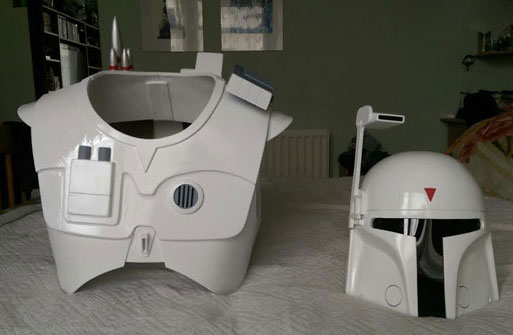 How long did it take you to make?
On and off for about two months, apart from the helmet. The helmet was something I've been working on for a while. That's my main hobby, making helmets. I've never really done armor or anything like that so it was my first full build too. I say two months but there's probably a few months of research first and finding a material I can work with. I don't have a lot of cash for my builds so I have to be a bit thrifty. My friend works at a large format printing company and he got me sheets of 3mm Foamex. It's like a plastic sheet they print onto, but it's perfect to heat and bend and hold a shape. It's strong and it can be painted so it's perfect!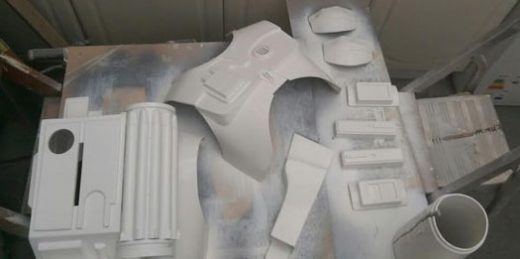 Then I started to build it onto myself, which was a stupid idea because it became impossible so I made a bust of my chest to build the main parts on. I'd say the full build still isn't finished and I still need to work on the material parts under the chest bit. The shoes are also a bit iffy and need modifying. I made the neck seal which was my first go on a sewing machine. Anyways, slowly over time and mostly on evenings after the kids had gone to bed I would work on it for a few hours a night.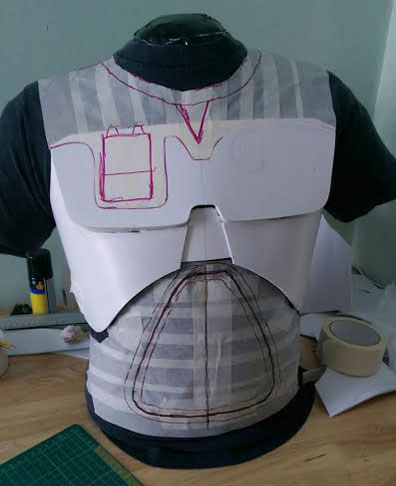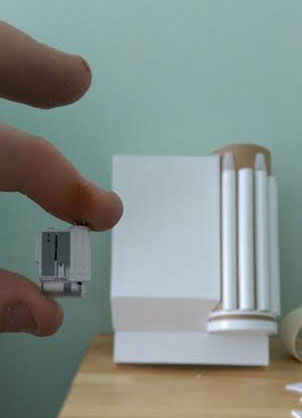 What is your favorite part of the costume?
The backpack for sure, and the helmet is a given. I love the helmets, but the backpack was a fun thing to figure out and make. I used a tiny figure and research pictures to make it look as right as possible.
What was the most difficult part of making it?
Well all of it haha, and none of it. I've always been a maker so I really enjoy the process, figuring out how to do things, what glues to use, stress testing, and a final product. The hardest stuff I'd say was the helmet just because it was the first time I'd ever cast something. I managed to make five helmets from my mold but the mold was shocking haha. I didn't have a clue what I was doing. I normally hand make helmets from fiberglass and bondo so this was all new to me but I stuck with it and they came out okay. I learnt a lot, and my next cast was 100% better.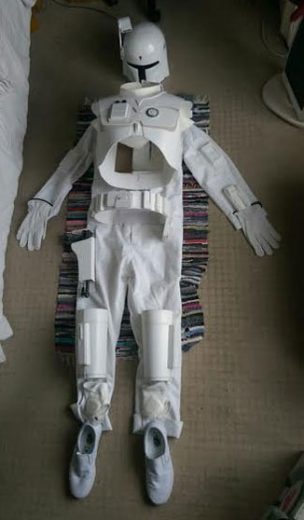 How often do you get to put it on?
Apart from fitting it, just twice haha. I'm not really a cosplayer and I'm not in any troop group. I'm hoping to get more time soon to sort out the few bits I want to finish on it, then maybe I'll give trooping a go but for now he sits on a mannequin in my house looking bad arse!
What advice do you have for fans who want to follow your lead and build a full McQuarrie armor too?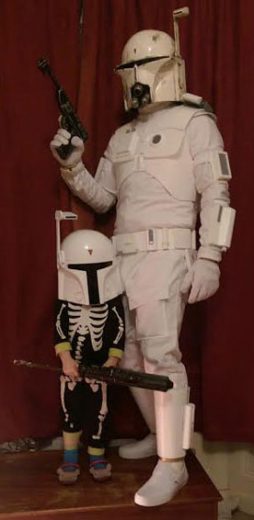 I don't have any real technical advice to give on making as we all work differently and with different materials, just some helpful pointers. I would say always check back with your research because it's easy to get carried away. Have love for what you're making. Ask friends for a different eye on what you're making if you want, it sometimes helps to see things differently. They might pick up on something you didn't even think of. Thanks to my wife and Joe @joey24dirt for being my other eyes and for their honesty!
Also, I'm not the best builder out there, I know this. There are guys and girls that make amazing stuff everyday and that's awesome, and can be intimidating if you're new or just starting. If you're like me sometimes you'll hit a lull and think the thing you're making isn't good, but carry on! Doesn't matter if you're making the smallest prop or a full build, what matters is it's yours! You did that and that's amazing! Other than that, enjoy what you do. Isn't that the point? To have fun!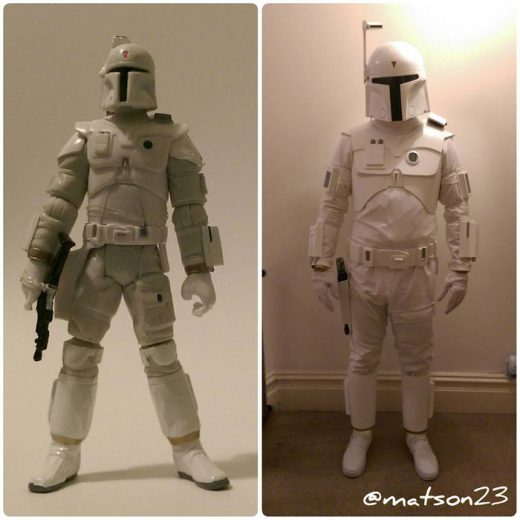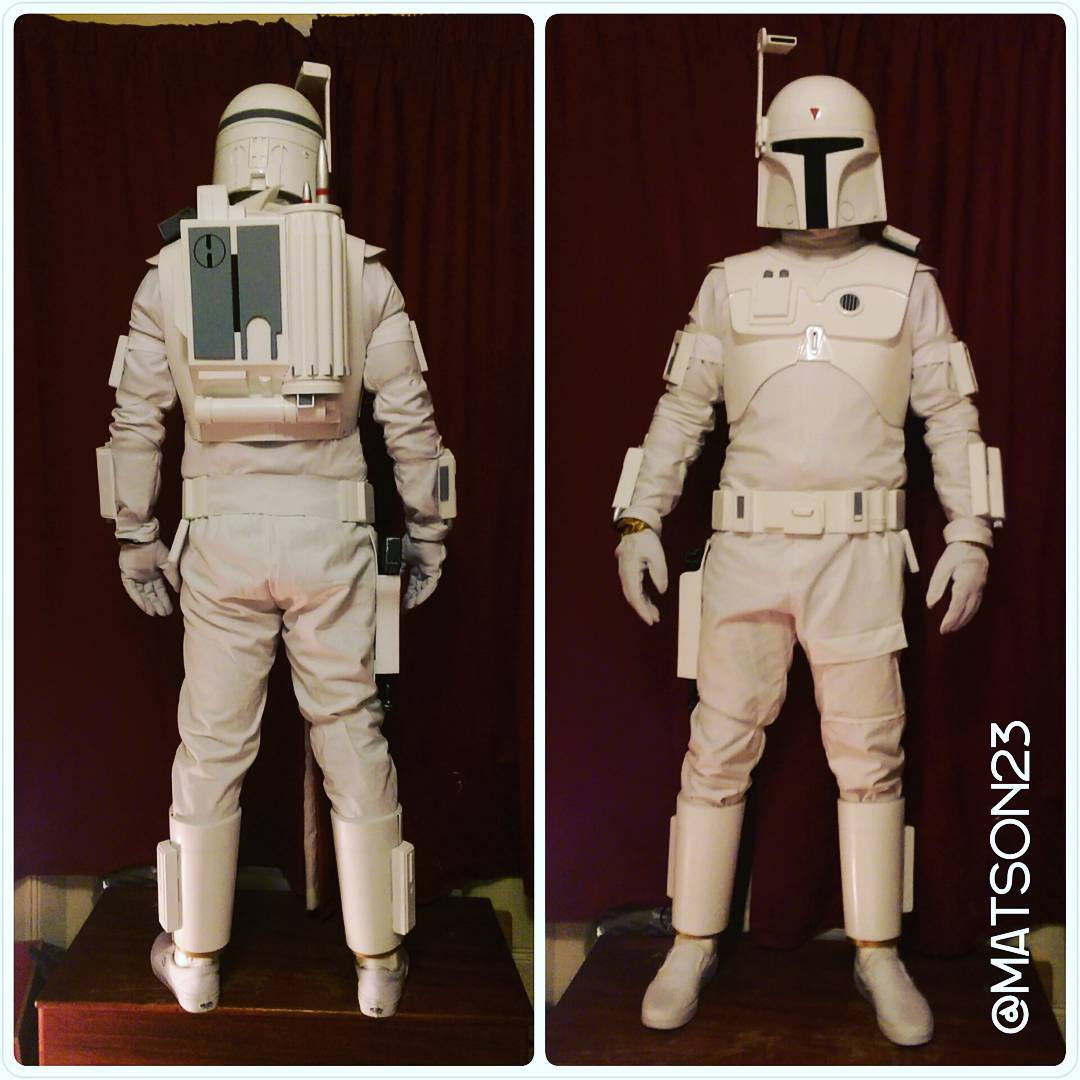 About the Artist
Matt is a father, son, husband, maker, fixer, friend, Star Wars fan, dogsbody, carpenter, skateboarder, lover, fighter, tea drinker and nail biter. He has been making helmets and props since 2012. You can find Matt on Instagram @matson23 to stay updated on his armor's progress.
This was originally published on WhiteBobaFett.com.