Recently, we here at the Boba Fett Fan Club had a chance to catch up with Star Wars artist Jamie Snell and talk about a few of his past, present, and future projects. Fortunately for us, some involve a certain legendary galactic bounty hunter.

Jamie, first off thanks for talking with me! I know you're busy with various Star Wars projects, so we appreciate you taking the time out of your busy schedule to answer a few questions as a Star Wars artist and fan!
It's no inconvenience. Thank you for wanting to interview me. I can always take time out to do an interview or two.
How long have you been a member of the Boba Fett Fan Club?
I have been with the BFFC since August of 2008!
When did you first see Star Wars?
When "A New Hope" first came out in theaters, a long time ago…
What affect did Star Wars have on your career as an artist?
Since first watching it, I have always drawn sci-fi or comic book related things. My Mom probably still has my drawings of the Death Star trench scenes I used to draw all the time.
Who are some of your favorite Star Wars characters to draw and why?
I love drawing armor. Troopers (clone, storm and all the varieties) and Mandos. My favorite to draw would be Boba Fett even though he hardly has any screen time. The coloring, markings, the mystery and intrigue was always the interest for me.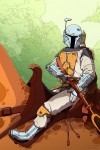 What are some of the art projects you have worked on for LucasFilm?
Well it started with Topps Entertainment doing the sketch cards for Star Wars and Indiana Jones, and then from there, I was asked to do stuff directly for LFL. I did some custom Mighty Muggs for the 2009 San Diego Comic Con and Make-A-Wish. I also did two pieces for the Zombie/Halloween week on StarWars.com.
What is your relationship like with the 501st, Rebel Legion and Mandalorian Mercs organizations?
Hmmm… I am more friends with the Mandalorian Mercs and far-off 501st, than anyone closer to home. I really haven't chatted or been asked by the Rebel Legion to do anything yet, even though alot of 501st ARE Rebel Legion members as well. Maybe its because I do mainly armor.
Celebration V was announced late last year, will we be seeing you there as a guest?
I hope so! I haven't booked anything yet. There are a few things that are involving that weekend. So we shall see.
What are some of your goals and dreams as an artist that you'd like to accomplish?
Well one of them was to have a print/giclée with Acme, and this year, that is happening with the 30th Anniversary Empire Strikes Back Art Collection. I would like to do something for Dark Horse and the Star Wars Universe (still working on that). Also along those lines I would love to have a figure made based on one of my characters or drawings. That would be AWESOME!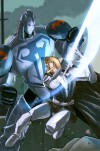 You're one of the artists involved in the Empire 30th Anniversary Artwork Collection. What can you tell us about the project and what scene are you going to be working on?
I am not allowed to show any artwork yet. When they announce when each piece comes out they will show the preliminary sketches. Each new scene will be released in story order as it appeared in the film. Since I am lower on the list, that means mine will not be out till later this year. Expect it in the fall. All I can say about my scene is that you will see Boba, maybe perhaps in a "dining room" setting.
Well Jamie thank you so much. It's always great to talk to a fellow Fett fan!
Thank you for the interview. It was my pleasure. Those were some good questions.
—
Check out Jamie's website ragelion.com and keep an eye out for his and other artists' work in the Empire 30th Anniversary Artwork Collection!