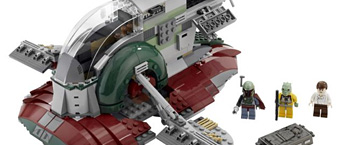 As recently announced at Lego's Toy Fair in February, a new version of Boba Fett's Slave I is set to be released in the fall of 2010.
The set features a new look for this version of the infamous bounty hunter's iconic ship, after having 3 previous Lego versions to date. It is also the largest of the Slave I's released thus far, boasting 573 pieces! The set comes with a new version of Lego Boba Fett, previously un-released Bossk, and a new Han Solo plus carbonite figurine.
Other sets include the Wampa Attack playset, Jedi Master Plo Koon's Jedi Starfighter, and General Grievous' Bellebub fighter. To check out more Legos coming to stores soon, visit the official Star Wars page.
Be sure and check out our Bounty section for other Boba Fett Legos!