StarWarsShop.com makes Medicom's Super Deformed Boba Fett figure available to American collectors.

The 8.5 inch tall vinyl figure, made by Japan's Medicom Toys, is currently going for $50 and is scheduled for an August 2006 ship date. It presents Boba in a more cartoonish super-deformed pose, sporting his Return of the Jedi version armor. This comes as a boon for Fett collectors', as you would originally have to pay at least $150 to obtain this statue.
These figures were originally limited to 2004 pieces and were only available at World Character Convention 18 in Japan, back in 2004. It came in a special collector's box, which had a die-cut Mandalorian Skull window. StarWarsShop.com is also packaging their super-deformed Fett statue in the same type of display box.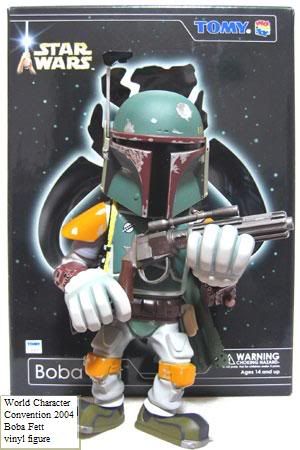 Medicom had later released a variant version of this figure, with Boba in his Empire Strikes Back armor. However, this came in a plain green marketing box. This variant statue was also hard to obtain and ran about $175 on ebay.
So, if you've been looking for this rare Japanese collectible, you can now save yourself some headache and quite a bit of money. It's a safe bet that this, like all other Boba Fett statues, will be a popular seller.
Links: