Note: The following contains SPOILERS to Star Wars #7
Over the past months, Dark Horse has delivered an Original Trilogy story arc that has been praised for its ability to capture the tone and dynamic of classic Star Wars. There's a long list of reasons this is an asset, it is nostalgic and takes readers back to simpler times.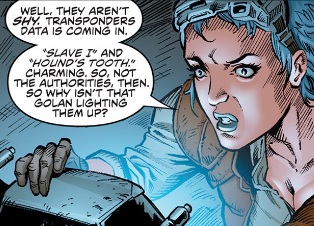 Writer Brian Woods, though, has continued another classic Star Wars trope, which I feel is a negative element –giving Boba Fett only a few panels every few issues. When reading "Star Wars: In The Shadows of Yavin," the Boba Fett subplot has been a near duplicate of what we see in "Star Wars: Dark Empire."
When Slave I appeared in Star Wars #2, I wrote in a preview piece that I hoped Dark Horse would break away from the cat-and-mouse story we've seen a continuously between Boba Fett and Han Solo. Instead, the cameo lasted a mere few story boxes before Solo makes an escape.
We catch back up with Han Solo a few issues later on Coruscant. Boba Fett tracks him to the seedy underworld, and we learn he's partnered with Bossk to claim the Imperial bounty. Han Solo once again slips away with the help of an aspiring smuggler, Perla.
In Star Wars #7, Perla's transport comes under attack by Slave 1 and Hound's Tooth. The bounty hunters have flanked their prey, and it's teased that Han Solo, Chewbacca and their new "friend" will have to blast their way out. The entire story arc feels like déjà vu – replace Bossk with Dengar and the story hits most of the plot points in "Dark Empire."
The focus of this comic centers around the Rebellion, and on that note, the story has been excellent. However, Woods has been slow roasting Solo/Fett's subplot, which I can only hope we'll be awarded for our patients with a well deserved space battle and firefight in Star Wars #8.
Specifically, I'd like to see some actual interaction between Boba Fett and Bossk. I'd like to see whether Woods builds on the relationship we see between the two in The Clone Wars or if it's more of a shaky alliance that existed prior to the retconned partnership – more akin to their interactions in early bounty hunter novels.