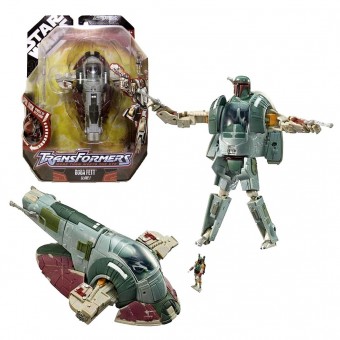 What kind of other hidden secrets could Slave 1 possibly have underneath that cloaking device? Could it be it's a robot in disguise?
We know that Boba has been an agent of the Empire, an enemy of the Empire, and the scourge of the Solo's. But who does Slave 1 work for? We've always known Slave 1 to be one of Boba Fett's most powerful tools when searching for his prey. However, all this time, could Slave 1 have been an agent for the…Decepticons?
This March, Hasbro releases Wave 2 of the Star Wars Transformers action figure/vehicles. This wave includes non-other than Slave 1, which transforms into a rather odd looking robotic Boba Fett figure. Although it really has nothing to do with the actual Transformers and their story, this should be a load of fun for those of us who remember the 80's, and those who grew up on the newer versions.
See our Bounty entry for more about it.