Hasbro is releasing a new repackaged Boba Fett "Pit of Carkoon" figure this month. These, however, include random holographic mini-figures.
In a follow-up to our previous article, RebelScum.com reported this month that the new Star Wars Saga Boba Fett "Battle of Carkoon" figures are out. The new figure is actually a combination of the Boba Fett (Pit of Carkoon) and Boba Fett (Vintage Original Trilogy Collection) figures. Unlike the original Pit of Carkoon figure, this one comes with a more accurate jet pack missile for the "quick draw" action, and also features several random holographic action figures (six, so far). There is even a holographic version of the Fett man himself, for those die-hard fans that want both in one nice package.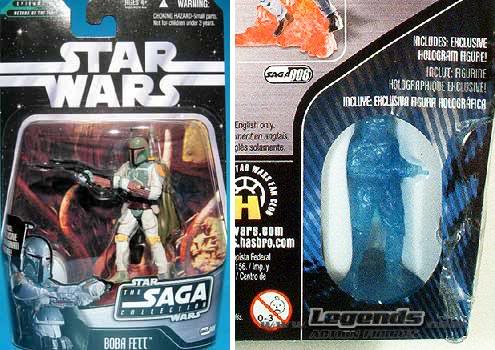 Boba Fett is part of the new "Battle of Carkoon" wave of Star Wars figures, that include their own "Return of the Jedi" display stands with the character's name on the front. Currently the wave includes Boba Fett, Chewbacca (as Boussh's bounty), Princess Leia in Boussh disguise, Han Solo (w/ Han Solo Carbonite block), skiff guard Barada, and Jabba's Majordomo Bib Fortuna.