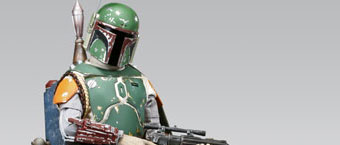 New preview of the one of the most anticipated Boba Fett figures ever!
Boba Fett has the honor of becoming the next Premium Format 1:4 scale figure in Sideshow Collectible's Star Wars figure line-up. No release date has been set yet, but this promises to be even more articulated than the Japanese Marmit figure that was released back in 2001, and looks to be painted in his Return of the Jedi armor color scheme. For a preview of the new figure, check out Sideshow's webpage here.
BFFC will be providing updates as more information becomes available.