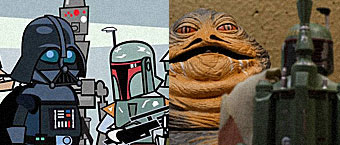 The Official Star Wars website has off-and-on held a fan film contest. This year, you can watch and vote among the nominees for their Audience Award. Two of the bunch have Boba Fett, which we endorse for winning.

BOUNTY BUDDIES
By JORDAN & CODY GUSTAFSON
Jabba assigns Boba Fett to his hardest mission yet… teaching Greedo how to be a good bounty hunter. Can Greedo finally capture Solo?

TRASH DAY
By JIM MEHSLING
How did Boba Fett know that the Millennium Falcon would be hiding out on the back of an Imperial Star Destroyer? Find out here…
Vote now at starwars.com/star-wars-fan-film-awards.
Not in competition for this year's contest, but Mehsling has done three other Boba Fett fan films! Check them out in our multimedia vault: