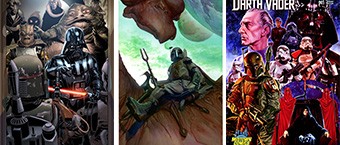 Boba Fett didn't even appear in Marvel's new Star Wars #1 — which featured countless variant covers — but he is for certain in the debut Darth Vader series.
Here is our curated list of ones that feature Boba Fett on the cover, with links to high-quality, unwatermarked scans and — where applicable — how to purchase.
(Looking for all Boba Fett comics? See our database.)
Art by Alex Ross. Sold at alexrossstore.com.
(Thanks to ComicBook.com for getting the exclusive from Marvel, releasing the cover image before even the artist.)
Art by Mark Brooks. Sold at midtowncomics.com.
B&W Variant. Sold at midtowncomics.com.
Art by Salvador Larroca. Sold at newburycomics.com.
(Thanks to ComicBook.com for getting the exclusive from Marvel, which here is in higher resolution than the store's website.)