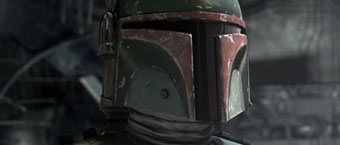 Updated – Spoiler alert here. According to The Sixth Axis, Boba Fett is not a playable character.
Boba Fett will be in The Force Unleashed II, which is available on all game systems this October. The news was special for the San Diego Comic Con.
USA Today covered the news and spoke with LucasArts' Haden Blackman about the plot:
"Darth Vader is hiring Boba Fett for this top-secret misson. Boba Fett realized that Starkiller has quite a head start on him having escaped from (cloning plant planet) Kamino so he goes after what Starkiller is probably after which is (love interest) Juno (Eclipse)," Blackman says. "It's easier for him to track down Juno than it is to track down Starkiller and use that to lure Starkiller back into Vader's clutches."

…

"Boba Fett is one of those characters that really resonates with fans," he says. "There is obviously a lot of fan favorites and it's a really, really rich universe with tons and tons of characters but Boba Fett is one of those characters that fans just keep asking for more of."
Here is a excerpt of the game's cutscene with Boba Fett and Darth Vader, presented at this year's Comic Con:
[UPDATE: NO LONGER AVAILABLE.]
The game follows Starkiller, a secret apprentice to Darth Vader. The storyline takes place between Episode III and Episode IV.
Also see IGN for their coverage.
This is (at least) the 22nd video game that involves Boba Fett.