British actor Simon Pegg, who was featured in "Shaun of the Dead" and the latest "Star Trek," is set to join the voice cast of Star Wars: The Clone Wars (Official Site) in upcoming episode 20 of season four. The episode, fittingly titled "Bounty", is the character's first appearance on the show. In the episode Dengar joins Asajj Ventress and a group of hunters lead by Bossk and a young Boba Fett (voiced again by Daniel Logan) on a train robbery.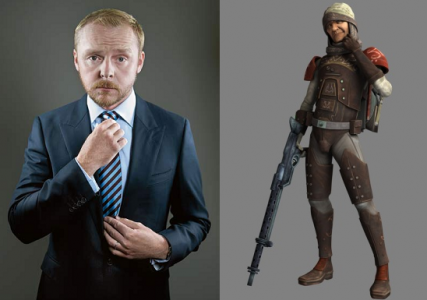 Pegg is no stranger to science fiction roles, having recently starred as "Scotty" in 2009's "Star Trek" reboot, among other films. He told Entertainment Weekly:
"Dengar is one of the elite. If you're on Darth Vader's bounty-hunter speed dial, you are the best in the galaxy."
Since the announcement some fan controversy has erupted due to Pegg's recent criticism of "Star Wars: Episode I – The Phantom Menace 3D" on Twitter where he said:
"Enjoyed Hugo, despite almost being ruined by Phantom Menace 3D trailer. Come and revisit the most disappointing 2 hours of your life, in 3D!"
Still, as EW reports, he was thrilled to work on the show despite his misgivings over the prequel trilogy.
"It was a total honor to play this mysterious, hard man from my favorite Star Wars movie, The Empire Strikes Back."
You can watch a preview of "Bounty" below or catch it when it airs at 8:00 PM EST on Friday, March 2 on Cartoon Network. Check out our previous post on this episode, including a poll on your thoughts on the preview.
[youtube width="560″ height="315″]http://www.youtube.com/watch?v=1ZqR8GuYuII[/youtube]