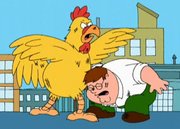 Seth MacFarlane told IESB.net about the upcoming "Empire" themed parody episode of "Family Guy." Giant Chicken is Boba Fett.
"The Giant Chicken's fights with Peter parody Hollywood action films and usually cause huge amounts of damage to the city and can last upwards of 7 minutes."
Boba Fett was recently in a parody episode of Robot Chicken, which was a Seth Green project.
Giant Chicken vs. Peter video clips
[No longer available.]
Fan Reactions
"I am reasonably giddy. That should be nothing short of hilarious." -- cujo