[UPDATE: While this headline resonated true in 2007, this TV series never ended up panning out and it's assumed the project was shelved indefinitely.]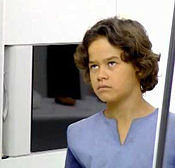 Rick McCallum told fans in France, at this last weekend's Star Wars Reunion 2 event, that Fett is in and Daniel Logan (Young Boba Fett, Attack of the Clones) is his choice for the part.
100 to 400 Episodes
This is for the live action Star Wars TV series. "He will have a contract for 100 episodes and Rick hopes it will be extend to 400, maybe with Expanded Universe characters after the first 100," notes the translated coverage. (Editor's note: emphasis added.)
The original coverage, French Star Wars web site KamuiWeb.com, came to TheForce.net earlier today.
On 10/31, IESB.net clarified that Lucas wants 100 episodes in general, and "no casting news so far for the highly anticipated TV spinoff of the Star Wars franchise and production is expected to begin within the next couple of years."
Also on 10/31, SlashFilm.com picked up the story with the headline, "NBC Cancels Heroes: Origins? Boba Fett in the Star Wars TV Series?" They also used the catchy photo by Dimitrios Kambouris (Wireimage.com) from 5/12/2005, where Daniel Logan appeared at the premiere of Episode III, blaster in hand, Fett by his side.
We followed up with Daniel Logan's agent and there's nothing on his end to comment on yet.
Fan Reactions