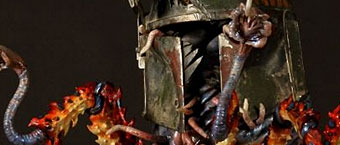 Filmed at Celebration VI's "As You Wish" exhibit, George Lucas says Boba Fett didn't die in Sarlacc, calls him a "survivor."
[UPDATE: See how this fits in to the larger picture of what's official / canon in our guide, "Is Boba Fett dead or alive?"]
Lucas was looking at the "Scavenger" helmet made by Cari Finken and Michael O'Brien of Legacy Effects, which sold for the most (over $19,000) at the auction, which ended yesterday.
Jump to 2:58 in this video and take a look:
[youtube]http://www.youtube.com/watch?v=hjUr_abRQ9w&t=2m58s[/youtube]
This is a notable, hot-mic comment because it goes against what we last heard, which was in 1997.
When the Special Editions were released, George Lucas told MTV that Boba Fett was dead. We have the video here.
On a side note, just recently, Dark Horse Comics published a four part comic series called "Boba Fett is Dead."